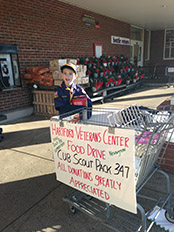 Newington Pack 347 Scouts Give Back to the Community
NEWINGTON - The scouts of Newington's Pack 347 have been busy this month lending a hand to help out their community.
Over the weekend of Nov. 1-3, scouts and their parents from Pack 347 braved the chilly weather to run a food drive to benefit the Hartford Veterans Center in Rocky Hill, which serves Newington, Wethersfield and Rocky Hill.
Each scout worked a two-hour shift at either the Stop & Shop on Fenn Road or the Stop & Shop on Kitts Lane, soliciting donations from shoppers to help support our veterans during this holiday season. Due to the incredible generosity of the Stop & Shop corporation and their customers, the scouts raised more than a $1,000 worth of food and an astounding $2,800 in monetary donations. The veterans and staff at the Hartford Vet Center were very pleased and grateful for our citizens' generosity.
At their Nov. 15, pack meeting, the scouts of Pack 347 held a "Stuff-A-Truck" toy drive to benefit Newington Human Services. Through the generosity of Company 3 of the Newington Fire Department, a fire truck was on hand to be "stuffed" with toys and games donated by our Pack 347 families.
Afterwards, the Company 3 firefighters delivered the toys to the Newington Town Hall where Newington Human Services workers were pleased to accept the donations, noting that the Pack had kicked off the holiday toy drive season in grand fashion!
As a reward for the scouts' fall popcorn fundraiser, those scouts who sold a certain amount of popcorn got to hit their leaders with whipped cream pies.