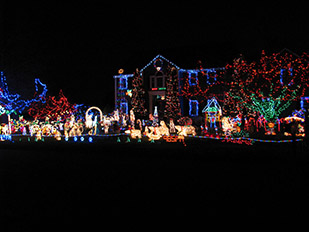 Wethersfield Holiday Light Display Draws a Crowd
WETHERSFIELD - If someone told you that a Christmas light display was capable of drawing 20 to 30 people--not on a given night, but all at once--you would probably have to see it to believe it.
But the light and lawn ornament setup at 122 Windmill Hill in Wethersfield, which has a habit of prompting passing motorists to stop and gaze in wonder, is all its chalked up to be and more.
The front yard is strewn with lawn ornaments--reindeer, snowmen, and toy soldiers. A nativity display sits alongside a lit-up sign that reads "Keep Christ in Christmas."
But the display doesn't shy away from a fun tone. Music, such as the Relient K tune "I'm Gettin' Nothing for Christmas," rings in the background as sections of the lighting flicker on and off, synchronized to the beat of a sophisticated computer program.
The driveway is lined with glowing archways that make a tour through the display feel more like walking through a Christmas funhouse than a suburban yard. Lying on the front stoop is what looks like a miniature scoreboard with a countdown to the number of days until Christmas.
For Will Sanders, the 25-year-old mastermind behind all of this, the countdown begins months before Thanksgiving, even. He spends the summer and early fall months tinkering with Light 'O Rama, the computer software that makes all of this possible. It takes two weeks to set up the display itself, which requires "at least 200 extension cords," Sanders estimated.
So much for going green. Speaking of which, Sanders said he tries not to think about how much the project costs him.
"All the reindeer are individually connected to the control box, so everything has to be run individually to the control box, so that's really what gets expensive," Sanders said. "It's smaller than it was years ago, but it's grown tremendously."
Years ago? That's right, he's been doing this for a long time--nine years, to be exact.
"It's a hobby that a lot of people enjoy," Sanders said. "Brings smiles to a lot of people's faces. It's worth it."
It started with an HGTV program he happened to see in 2002. The show featured a display that utilized the same computer-based technology that makes the lights flicker on and off in timing with a set of songs.
"I immediately said, 'That's how I want to do our Christmas lights,'" Sanders recalled.
A Christmas display had always been a Sanders family tradition, but not like this.
"We'd always been putting up lights," Sanders said. "The whole family would get out and do it together. It was just a few strings of lights attached to the bushes and a couple of reindeer; nothing else."
That was until 2004, when Sanders took the annual project into his own hands. He has single-handedly put up the display every year since.
"The first few years doing this it was really confusing," Sanders said. "But it's a lot easier for me to figure it out [now]. Experience helps make things go a lot quicker."
The satisfaction it brings his audience is what drives him to keep it up, he said.
"I know a lot of people who look forward to this every year," Sanders said. "That's really what' it's about; making memories for a lot of people."