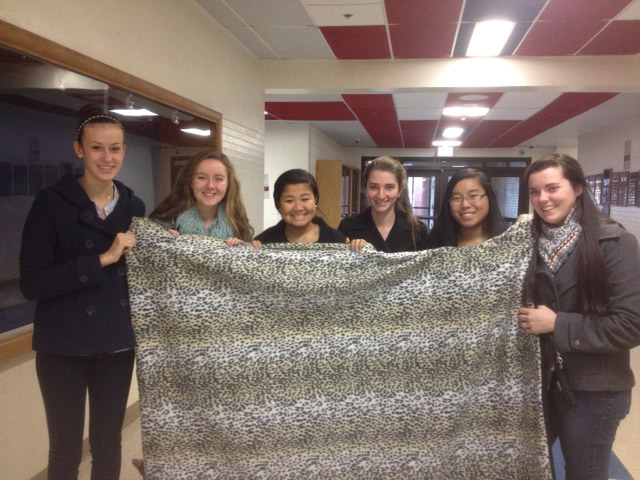 Students Share Peace and Love Through Blankets
WETHERSFIELD - How many people can one blanket cover? One, two maybe, but the value of warmth and comfort, particularly to those in need, probably isn't something that you can put a numeric value on.
Now how about 300 blankets?
That's the amount that has been sewed and donated to natural disaster victims, cancer patients, and homeless individuals, amongst others, by the Wethersfield-based organization Peace, Love and Blankets. The 300 figure is jaw dropping when you put it next to another number--the group's membership. The organization is currently comprised of six high school students.
"It really started as a small, fun project," said founding member Alex Hoffman. "We got more people into it, and then it became a great community service thing."
Maybe a better question would have been how much ground 300 blankets can cover. The students spearheading Peace, Love, and Blankets are serving a wider community; they have sent the fruits of their labor everywhere from Indiana and Boston to Japan and Russia, amongst a slew of other places.
"It's nice to hear that they actually get there, cause they're like so far away and we can't physically bring them there," said member Megan Lemieux.
The group has sent donations to seven countries and four states.
"We get a lot of thank you letters from people, which is great because it means people actually care that we send them," Hoffman said.
The group sent 25 blankets over to Japan after the tsunami. Sixty went to Indiana following the tornado, and members recently made a personal trip to Breezy Point to deliver 60 blankets to victims of Hurricane Sandy.
"It's always a lot more memorable when we get to personally deliver the blankets," said member Jillian Massaro.
The project does not forget its local roots, however. The group donated 10 blankets to needy families at Silas Deane Middle School in 2009. But Peace, Love and Blankets is not only about aid, but friendship as well. Group members have hosted and made blankets for international exchange students from Russia and Hong Kong.
"So some of them aren't children in need, but still it's good will across the world," said Beth Hoffman, Alex Hoffman's mother.
Alex credited her mother, who has been making blankets as a hobby for a dceade, for inspiring her to take this up.
"She's always been making blankets for my friends when we were little," she said. "I used to help her out with little things like pinning size. Then she let me do one of my own."
Each member of the group sews about six blankets over the course of a few weeks. It typically takes 45 minutes to complete one, and that's with a sewing machine, a luxury Massaro does not have.
"I cut them and tie the strips; that would always take me two hours, but I've gotten better at it," she said.
Massaro estimated that it takes her about an hour and a half to do one blanket now. If time is tight now, it will be even more so next year for the five members that are graduating and moving onto college. For Peace, Love, and Blankets, handling that transition will be all about passing the torch.
"We recruited younger kids to do it during the school year," Massaro said. "But hopefully we can do it when we come home on breaks."
Fabric donations for Peace, Love and Blankets, a minimum of two yards, can be brought to Wethersfield High School.