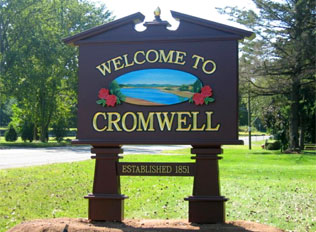 Talty Named Next Superintendent
CROMWELL - To the Cromwell Community:
It is with great pleasure that I announce that the Cromwell Board of Education has unanimously selected Dr. Paula Talty as Cromwell's next Superintendent of Schools. Dr. Talty will replace Dr. Matt A. Bisceglia, who has served Cromwell as Superintendent for the past seven years, and has recently announced his retirement effective as of June 30, 2013. Over the next few months, Dr. Talty will work closely with Dr. Bisceglia to transition into the Superintendent's role, and will become our new Superintendent on July 1, 2013.
The Board is also pleased to announce that it has unanimously selected Mr. John Maloney as Cromwell's next Assistant Superintendent of Schools. Mr. Maloney is currently the Principal of Cromwell Middle School. Mr. Maloney will work with Dr. Talty to transition into the Assistant Superintendent role, and will officially start this new role on July 1, 2013.
We would also like to thank Dr. Bisceglia for his years of service to the Cromwell Public School system, and wish him the best in his retirement. Our schools, our students and our community are all better because of his service. We plan to honor Dr. Bisceglia's service prior to the end of the school year.
Dr. Talty has served in leadership roles in the Cromwell schools for 16 years. She began as an assistant principal at Edna C. Stevens Elementary School. In 2001, she was named the Director of Curriculum and Instruction for the district. In 2007, she was named the Assistant Superintendent for Curriculum, Instruction and Evaluation for the district. In this role, she was responsible for ensuring compliance with state and federal curriculum standards, seeking out and receiving federal grants, developing partnerships with other districts and local colleges, and working with educators in the district to embrace new innovations, technology, and data analysis.
Mr. Maloney came to Cromwell in 2003 as the Assistant Principal at Cromwell High School after working for the East Hartford Public School system for seven years. He was named the Principal of Cromwell Middle School in 2006. Under his leadership, the Middle School has made substantial improvement in teacher development and evaluation, and student achievement.
The Board is very excited to welcome the team of Dr. Talty and Mr. Maloney as Cromwell's next Superintendent and Assistant Superintendent. Under the leadership of Dr. Bisceglia and Dr. Talty, we have seen strong improvement in several areas of our educational foundation, including technology integration into the classroom, improved student achievement, expansion of advanced placement classes at the high school, and critical acclaim from numerous organizations, including The International Reading Association, the New England Reading Association, and the Connecticut Association of Schools. We are confident that the transition to our new leadership team will be seamless, and expect that the advances made by our schools will continue under Dr. Talty's leadership and guidance.
Over the next few months, we look forward to introducing the entire Cromwell community to the next leaders of our school community. Additionally, the Board will shortly begin a search for a new Principal for Cromwell Middle School, with the intention of having someone on board prior to the end of the school year, which will allow the new principal to work with Mr. Maloney during the transition.
Please join us in congratulating Dr. Talty and Mr. Maloney on their well-deserved appointments.
Sincerely,
Mike Camilleri
Chairperson, Cromwell Board of Education