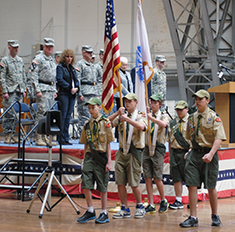 Girl Scouts Celebrate Christmas with Seniors
NEWINGTON - The Newington Girl Scout Troop 10511 is always doing good deeds for the community. The latest, which has been a tradition for the last four years, is to give holiday concerts for the residents and people rehabilitating at Bel Air Manor, New Britain Avenue, Newington.
Singing the classics such as "Jingle Bells," "12 Days of Christmas" and "Frosty the Snowman," are favorites that get the seniors' toes tapping and hands clapping. This year was a little different as the girls took charge of the event and wanted to display some of their musical talent - which included playing the following instruments: saxphone, violin, guitar, piano and a solo of "Carol of Bells." It touched everyone's heart and soul.
They also were creative and made gifts for everyone at the center. This year the gifts included 65 cinnamon sachets, 36 pillows and 25 snow globes. Family members of the residents remember the girls from the past years and made sure they were in attendance to be part of this celebration. Many of the residents do not have family members, or receive gifts during the holiday, and are touched by the generosity and kindness of the troop. It's an event that brings joy and happiness to all during the holiday season.