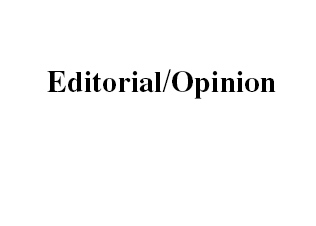 Violence Needs to Stop in America
As a father of four, my heart breaks for the families who have lost so much and I pray they can find peace. As a writer I rarely struggle to find the language to express my feelings and beliefs on matters I care about, yet words cannot articulate the pure sadness I feel inside my soul. Our society will now begin the long and painful process of trying to understand why this barbaric madman chose to act this way. We can only hope and pray that with some introspection, we can shed some light on how this could have happened and prevent such in the future.
Violence continues to plague our great country and it is time we look in the mirror and evaluate the factors that make us so prone to hurting one another.
Those who read my column know I disagree with most of President Obama's politics, yet his visit to Newtown was perhaps his finest moment in his presidency, as he assured the people that America will be with them to help shoulder their burden of grief. His comments illustrated the complexities behind America's violent crime problems as he said, "No single law, no set of laws, can eliminate evil from the world or prevent every senseless act of violence in our society. But that can't be an excuse for inaction. Surely we can do better than this." I concur with these statements.
While the problems may be complex, mental illness is the single most common denominator between most of these violent attacks. Many individuals have fallen through the cracks and have immersed themselves on the fringes of our society. These lost souls often come from broken families, finding escape in video games, Hollywood films, the internet, and trash television. Our kids are exposed to so much violence across this spectrum, causing many of these troubled people to become desensitized to the sanctity of human life. The problems become exacerbated when the family unit becomes dysfunctional or broken, causing them to inch closer to fantasy and further away from society, down the path of evil.
The challenge for our society is to identify these people before they cross over, offering them professional help. Therein lies the challenge, as our country values privacy, especially when it comes to an individual's medical records.
The gun issue is almost as difficult. I believe in the United States Constitution and the Second Amendment, yet I struggle with the question as to where to draw the line when it comes to weaponry for the citizenry.
Connecticut already has very strict gun laws, but I am open to having the debate on high-powered assault rifles with high capacity magazines for ammunition. By no means do I claim to be a gun expert, or even a hunter for that matter, but I am having difficulty understanding the need for that kind of firepower for sport. I do not favor a complete ban on guns for law abiding citizens, but I am open to discussions of mental health analysis for those who purchase such weapons.
Purest Second Amendment advocates might disagree with me on this matter, but we owe it to the victims of Newtown to start this discussion. Such laws might have stopped the tragedy at Virginia Tech or Aurora, Colo., but maybe not this one because the assailant stole these weapons from his mother, who by all accounts purchased them legally.
Along with 9/11, Newtown is the most heartbreaking American tragedy in my lifetime and it haunts me. I am thankful that my own town of Cromwell is increasing its police presence around the schools and Superintendent of Schools Matt Bisceglia has been in constant consultation with Chief Salvatore and the Cromwell Police Department over the past week. I believe most towns are following suit and doing everything in their power to protect our children and educators.
As the days go by and the holidays approach, it becomes increasingly difficult to watch the news any longer, seeing the faces of the innocent souls taken from us far too quickly. The grief from those who lost children and loved ones must be unfathomable; and the anger insurmountable. I keep praying to God to give the families who lost loved ones peace and I take comfort in the scripture from Matthew 5:4, "Blessed are those who mourn, for they shall be comforted."
God bless Newtown.