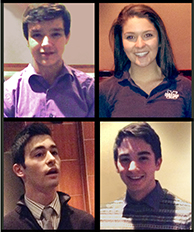 Confessions of a "Les Miserables" Addict
I began my relationship with the theater when I was a teenager and it never stopped. The main thing that changed was about 20 years ago I submitted my first written piece to Playbill, had it accepted, got paid and from there the roller coaster just gathered speed and is more fun with every new theatrical adventure. For someone who loves going to the theater as much as I do, you're bound to see shows multiple times. Some twice, some three or more times, but, for my attraction to the history-making musical "Les Miserables," the total times I've seen it is somewhere in the mid-teens-- to be honest I've lost count.
Sure I saw "Cats" (my son's favorite) and "Miss Saigon," not to mention "Phantom," but I was always drawn back and pitched a story to write about "Les Miz."
That first article I mentioned was about the draw of "Les Miz" and how some people saw it time after time after time. Little did I know then, I would eventually be one of them.
Having spoken to so many people about what their favorite show is you'd be surprised to know that many say "Les Miserables." And not because it's my favorite--I think the universal theme of good vs. evil, right and wrong, calls out to so many.
I have been blessed to see so many shows, both on Broadway and regional theater, that I can no longer count the ways. But let's get back to "Les Miserables" and why you're probably asking yourself would anyone want to see it 15 or 16 times? Why not? If something speaks to you and you love the whole process of theater, then go for it.
I did feature stories for "Les Miserables" on celebrating its fifth year on Broadway, its 10th year on Broadway, closing, reopening the show a few years later, revamping the show after many years, the yearly auction held in N.Y.C. to raise money for AIDS where "Les Miserables" raffles off a non-speaking walk-on role to the highest bidder. In case you're curious the year I did it the prize went to two people who both got the high bid of $18,000. I never asked them how they could afford this luxury; I only covered how they handled their dream of being in this show for a night.
I did stories on new people coming in to take over the lead and I did stories when "Les Miserables" was on tour and what that entailed. Moving the giant scenery that includes the barricades and the turntable stage floor to the hundreds of costumes and wigs and how they have to be painstakingly taken care of daily. You pick a topic, I covered it.
That first story I did back in 1992 is proudly framed in my living room to remind me of the long journey I've been on with this wonderful musical.
And so now it's a movie that opened on Christmas Day a week or so ago. A story about that? For sure!
Yes, they finally made the musical to end all musicals into a movie to end all movies. Of course, I'm routing for a pile of Academy Awards for it. But you can be sure I was in line when it opened and I'll be in line somewhere when it hits Blu-Ray later this year.
Luckily my family knows my obsession with this show--I was kidding my son about my grandson who is coming into the world next month and why don't they consider naming him Jean Valjean, Marius or Jarvert. Right now I just refer to him as grandson-to-be 24601. I've got a lot to tell him. Do you think I could get away with a bedtime story about a man who steals a loaf of bread and is in prison for 20 years? Yeah, probably not, but I'm sure going to try.
Jeffrey LaGrange can be reached at
jefflagrange@yahoo.com
.