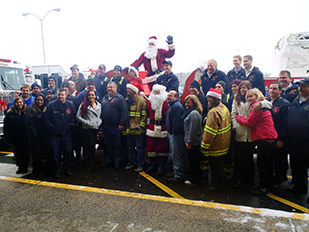 Cromwell Fire Department Santa Run
CROMWELL - Thank you to all the citizens of Cromwell for their generosity and hospitality during our annual Santa Run Saturday, Dec. 8
The outpouring of gifts and food were extremely generous and the local business support was tremendous in attaining our goal this year. As you know our entire membership spends the day circling the town and handing out candy canes as a gesture on our behalf to give back to the community. As we navigated our routes through the town it allowed our residence to share in the holiday spirit with plenty of priceless moments and photos opportunities with our children. It is also a time for our neighbors to help those in our community who are in need.
The Santa Run, as usual, was a great success again and we were able to assist the Cromwell Town Hall with a tremendous trailer of toys as well as many shopping baskets loaded with food for the food bank. The cash donations were listed at just over $1,300 and that has been turned over to the Department of Human Services and is used to assist with their fuel bank.
We truly appreciate all the support from the residents and businesses of Cromwell and hope you and your families had a happy, health and safe holiday!
The officers and Members of the
Cromwell Fire Department