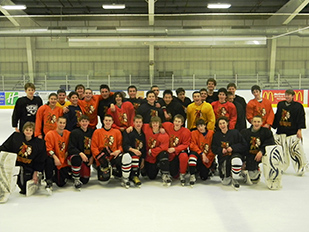 Youth Ice Hockey Teams Give Back
NEWINGTON - Ice hockey is unique.
It delivers a combination of speed, finesse, and physicality that seems to stand in a category of its own, but that is not the only element that sets it apart from other sports. Pay attention to what happens after the goalie covers the puck to bring play to a halt. Watch the way his teammates swarm the net, ready to take on any opposing player that dares so much as lay a finger on him.
Hockey players look out for one another. Sure, athletes in other sports, more likely than not, are programmed to do the same, but in a game that is physical--and often times violent--this type of courage is brought into the spotlight far more often and carries even greater weight.
For the players and parents of the Connecticut Chiefs Bantam 98 and U-16 hockey teams, it was about looking out for someone. But they took this principle beyond the confines of the ice rink and into the community, where an underprivileged family, a single mother with seven children, was in need of the zealous camaraderie that characterizes the game of hockey.
"You're talking about 13, 14, to 16-year-olds," said Connecticut Chiefs co-owner Derek Barbour. "Most of them come from relatively affluent families--not like millionaires, but solid middle class families. I think it was a wake-up call for some of them--got to see how the other half lives."
Not only see how those less fortunate live, but play a role in enhancing that. During the holiday season, traditionally a time of giving, the Chiefs players went above and beyond the call of duty, supplying the family with clothes, toiletries, furniture, appliances, and even a DVD player and television set.
"I like to think we helped out a lot, not just with frivolous things [but] things that will be there long after Christmas Day," Barbour said.
The nonprofit Village for Children and Families, Inc. provided the teams with a template of essentials the family was lacking, but the Connecticut Chiefs is an organization dedicated to developing players into future prep level and Division I prospects, and if such endeavors have taught its members anything, it's that achieving the bare minimum is never enough.
"We need that, and a lot more, to be frank," Barbour said. "We decided to make an impact. Not just meet the need, but be Santa Claus. The bigger the job, the better it is. A lot of these people aren't used to doing things small. When they do it, they do it large."
It's probably worth mentioning that the Chiefs players and parents did not solicit donations to come up with the items, but bought them--out of pocket--themselves.
"This is just another task they take on," Barbour said. "I give full credit to the moms--they're the ones that are the driving force behind this."
It truly became a team effort when word got around about the campaign and community members from outside the organization offered to chip in.
"There was one instance where one of the mothers was talking about it to some of her friends on her street and then they got involved," Barbour said.