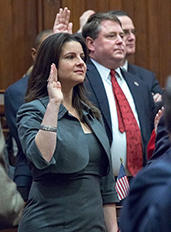 Carpino Appointed to Three Committees
CROMWELL - State Rep. Christie Carpino, representing Cromwell and Portland, was appointed to three committees for the new legislative term beginning January 9th. Carpino will be the top House Republican on the Legislative Program Review and Investigations Committee and also serve on the Judiciary and Education committees.
"I know Christie will continue to serve the House Republican caucus with distinction. She has a keen eye for details and is a dedicated legislator," said State Rep. Larry Cafero, House Republican Leader. "We all rely on our key committee members to be our strongest advocates, our eyes and ears, when it comes to shaping critical legislation."
Carpino is anxious to continue working for the people of Cromwell and Portland at a time when the state faces significant challenges--namely, problems with its books.
Carpino's role on the Judiciary Committee will see her consider judicial procedures, criminal law, probate courts, probation, parole, wills, estates, adoption, divorce, bankruptcy, all bills carrying civil penalties which exceed $5,000, and all bills carrying criminal penalties, other than infractions.
"I am pleased with these assignments," Carpino said. "Crime and public safety are on the foremost minds of Connecticut residents. One of our top priorities is to make sure we do everything feasible to protect our citizens."
Carpino supported a bipartisan solution during a recent special session to closed a projected $250 million deficit for this fiscal year. Analysts project Connecticut will face deficits of $1 billion in each of the next two fiscal years. Tackling those budget problems will begin next month.  
The Legislative Program Review and Investigations Committee's primary charge is to examine state government programs, and their administration, to determine whether they are run in an effective and efficient manner. Carpino said she hopes to steer this committee towards comprehensive solutions.
Carpino is particularly pleased to be re-appointed to the Education Committee. She will continue to fight for the best education for Connecticut's children. "Our students' successes are critical to Connecticut's future," she said.
"Committee rooms are where the laws of our state are shaped, and where we can make the most difference for the people of the state of Connecticut," Cafero said.