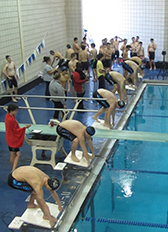 Terrier Swimmers Focus on Individual Races
"In swimming, it's not like a soccer team. For us it's really about seeing how many boys we can get to qualify for the state championships," said coach Lisa Cooney. Rocky Hill is the only Class S school in the CCC East League, Cooney said, competing against Class M and L schools, so the Terriers focus on individual performances.
Last Tuesday, Jan. 8, for example, the team competed against East Catholic.
"We won more races than East Catholic but they won the meet because we just don't have the depth," she said. "It's all about individual. Almost everybody on the team has gotten an individual best in something they swam. We're just looking to be better at the end of the season than they were in the beginning."
Junior Jack Malestini is one of the team's top individual performers in the 50- and 100-meter freestyle and has been undefeated this season so far in the 100 free.
"He's somebody I'm expecting to place in the top three at states," Cooney said, adding his best time this season ranks him in the top two in the Class S division.
Malestini, who hadn't swum before joining the team as a freshman, finished sixth in the state last year as a sophomore. The top five were seniors. Cooney said Malestini has a good shot at qualifying for the state open in the 100 free and breaking school records in his two events.
The team also has some standout seniors, including James Wang in the 200-meter individual medley and the 100-meter breastroke. Wang swam as a freshman and returned after running indoor track.
"Right now he's less than one second away from breaking the [school] record in the 100 [breastroke]," Cooney said.
Distance swimmer TJ Moise is also one of the team's senior leaders. "He is somebody who has qualified for state in the past few years," Cooney said.
At the Class S tournament, the Terriers will be swimming against schools that are more their equals, but will remain focused on individual performances.
"Our goal is, 'This is a good race for you. If you win, you win. If you don't, you don't,'" Cooney said.
The Rocky Hill boys swimming and diving team will compete next at Plainville High School Tuesday, Jan. 22, at 4 p.m.