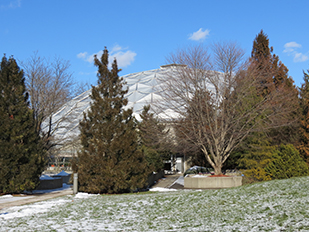 Dinosaur State Park to Undergo Exhibit Renovations
April 2 is the tentative reopening date after the installation of new displays in the Discovery Room, funded by the state Bond Commission. Experience Design of Pawtucket, R.I., with a resume of over 200 science museum projects, will complete the renovations.
The entire building will be closed during construction, including bathroom facilities, however the trails will be open as usual.
The Friends of Dinosaur Park and Arboretum, Inc. funded the Discovery Room specifications created by Nutmeg Designs of Windsor. "The features of the Discovery Room will include hands-on activities, state-of-the-art displays of Connecticut rocks and minerals and even a pinball machine featuring the Connecticut Valley," according to a press release from the park.
The new exhibits are designed for both adults and children and will display hundreds of new specimens, including pull-out drawers containing Connecticut specimens in the new exhibit "Connecticut's Geologic Treasures." The exhibit will also feature an interactive geologic map of the state and an "Investigation Station" to examine mica and crystal structures.
Another new display,