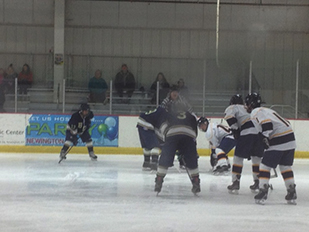 Rams Ride the Momentum to Victory Over Eagles Hockey
WETHERSFIELD - A two goal, two assist performance by senior forward J.R. Piretti helped lift the Rockville-Bolton-Coventry-Lyman Memorial high schools ice hockey team over Wethersfield by a 5-0 margin at Newington Arena last Monday afternoon, Jan. 21.
Piretti notched an early tally, scoring 30 seconds into the first period, to send the Rams out flying at the onset. His goal, coupled with another from senior Mike Leardi at the 7:22 mark of the first period, put Lyman Memorial in a position that really would not be threatened for most of the remainder of the game.
"I think getting on the board right away, 30 seconds in, gave us a buffer," said Rams head coach Chris Stevenson after the game. "Maybe too much of a buffer, because we got a little lazy later on."
You would hardly be able to tell, because the Rams did not seem to slow down. Junior forward Seth Alexanderowicz added another when he took a rebound that bounced off the Wethersfield defense in traffic and banged it home for a 3-0 lead at 11:19 of the second period.
Piretti, who already made his mark on an early goal, would snag one late, during the last 42 seconds of the period. Junior Liam McGrath curled around the top of the left circle and wristed one that went through traffic and was stopped by Eagles goaltender Domingo Rodriguez, but Piretti was there to knock it in to stretch the Rams' lead to 4-0.
In a game in which the shot count was close--the Rams outshot the Eagles 31-24--Lyman Memorial goaltender Cameron Earle made strong saves, including stops on a couple of late power play chances, to stomp out any chance of a Wethersfield comeback.
"He was good," Stevenson said. "I know they outshot us in the second period, so the momentum swung their way, but he was able to keep it going our way."