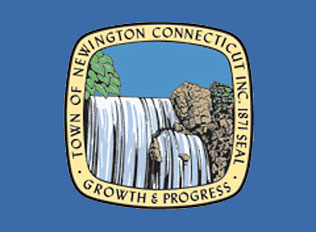 SROs Considered at School Security Forum
NEWINGTON - A vocal group of Newington residents has petitioned the town for the addition of a student resource police officer at every school in the district, just one measure that has been suggested amidst a community-wide discussion on post-Sandy Hook security.
Residents in support of such an initiative let themselves be heard before a panel of town officials that included Newington Mayor Stephen Woods, Superintendent of Schools William Collins, and Newington Police Chief Richard Mulhall at a school security forum held in the high school auditorium Tuesday night.
"I definitely think you need an officer in every school," said resident Bill Prestace during the public comment segment of the forum. "You need plexiglass [for the windows]."
Newington High School has a student resource officer, or SRO. Student protection is only one small component of an SRO's job, Mulhall explained. The officer serves mostly as another administrator with a focus on providing support to students and the rest of the school's community, he said.
The forum began with a Power Point presentation led by Newington Director of Resident Security Richard Klett. Klett presented a slew of existing measures that includes electronic locks, surveillance cameras that can be viewed by the police department and from smart phones, and a student, faculty, and visitor lanyard I.D. system.
"We are a district that is regarded as a leader in school safety," Collins said. "We have had other schools come to our district to see how we do things in terms of technology."
While many of the town residents praised the existing measures, some are looking for a little extra. Lisa Dunbeck, who has two children attending school at the elementary level, presented the panel with a petition containing more than 200 signatures, requesting that an SRO be placed in every school.
"While everything we have is great, I think what Newtown showed us is that we need to do something more," Dunbeck said.
Others, however, expressed apprehension about the possibility of having what they envisioned to be an armed police officer patrolling the schools.
"I don't want my children hurt any more than these parents," said Amy Lindsay. "[But] I don't want my children around guns. I don't send them to a house where they have guns. I won't send them to a school where there are guns."
While the addition of SROs has been considered, nobody intends to have an assault-rifle carrying "Rambo"-style presence, Mulhall said. The officer's primary responsibility would be to foster the community and run anti-bullying programs within the school, he said.
Other questions pertained to the cost of more SROs, although most residents that spoke in support of such a measure said that it would be worth the monetary price.
"As far as the 500-something thousand dollars, I pay a lot of taxes in this town, and I'd be willing to pay more to do this," Prestace said.
Although the Board of Education and Town Council have collaborated more in brainstorming school security measures in the Newtown aftermath, the Council can only authorize funds, not mandate how the Board utilizes them, Woods said.
"We could actually put in [funds for] SROs, and they could decide we need technology," Woods said. "Not saying it's going to happen, but it could."
SROs are not a cure-all because the problem is not that simple, other residents contended.
"We're looking at treating the symptom," said John Callahan. "We got to start treating not just the symptoms, but the cause. We have to get guns off the street. We have to treat mental health."