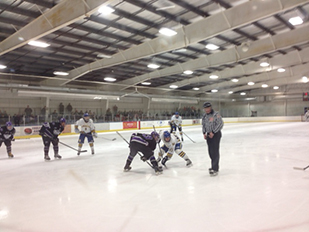 Newington and North Branford Hockey Teams Tie
NEWINGTON - The Newington (9-2-2) and North Branford (7-2-0) high school hockey teams battled it out into a 1-1 stalemate on Saturday night at Newington Arena in a physical game that saw the Indians draw even on senior forward Brendan Richards' third period net mouth goal.
After trailing for the first two periods, the Indians kicked the final stanza off right, when junior forward Matt Harackiewicz skated around the back of the net and attempted a wrap-around. The puck ricocheted off the pad of Thunderbird goaltender Kyle Saroka and out to Richards, who spun to his backhand and slid the puck into the low right corner to tie the game.
"We came out a little lax [in the third period] and they took it to us in the first five, six minutes," said Thunderbirds Head Coach Ralph Shaw after the game.
The Thunderbirds jumped out in front early when junior defenseman Jared Neubig took a slap shot from the point that hit the stick of freshman forward Mark Russo in traffic and found the back of the net to give North Branford the 1-0 lead at 8:55 of the first period.
The contest was heated, with both teams finishing their hits and taking their share of penalties. The game, as a whole, was characterized by missed opportunities and timely saves at both ends.
"We were trying to focus on getting the puck deep and forechecking," Shaw said.
What may have been North Branford's best chance came with 1:45 remaining in the third. Dylan Podbielski flew into the slot unchecked and took a pass from the right boards, firing a one-time that missed the back of the net by inches--he rang the left post.
"Their goalie [Drew O'Leary] played well, and we didn't generate as much opportunities as we wanted to," Shaw said.