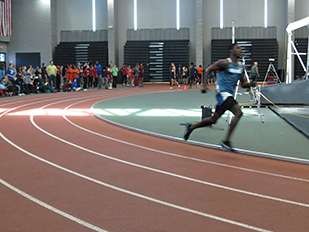 Tan Scores Terriers Five Points at Class M Meet
Tan took fourth in the 1,000 meters in 2:37.48, good a nearly three second personal record and four points for the team. The junior added another point with a 4:41.75 performance in the 1,600 meters.
The meet started on a more solemn note, however, with the 4X200 team of sophomore Alex Brown and seniors Shane Steinman, Shaharyar Zuberi and Alex DeNardo dropping the baton during the handoff from the first leg to the second, thereby being eliminated from the race.
The sprint medley relay of Brown, DeNardo, Steinman and Tan scratched from their race.
Sophomore Briana Wilson was the only female Terrier to compete, with a 24th place finish in the 300-meter dash in 45.74.