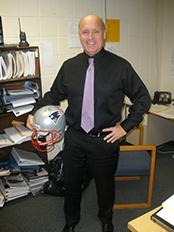 RHHS to Name Court After Former Athletic Director
Faculty and students at the high school, led by current Athletic Director Richard Seidman, approached Principal Mario Almeida wanting to do something in McCabe's memory, Almeida said at a Board of Education meeting last Thursday, Feb. 14. "McCabe Court" will be painted on the court and a plaque will be hung in the gymnasium in his honor, funded by the Class of 2012.
The board unanimously approved a recommendation to name the court after McCabe. The project already has Town Council support.
In his four years as athletic director before losing a battle with cancer, Almeida said McCabe was responsible for many changes in the way the school runs clubs and athletic activities.
"He was so much more than an athletic director," Almeida said. "His motto was if we could find a kid who's interested in an activity, we'll start a club for them, and we did. Under his tenure we've doubled the amount of clubs that we have at the high school."
Director of Facilities Richard Cooke has been looking into companies to paint McCabe's name on the court floor, Almeida said, and the project will possibly take place over April vacation or the summer. Upon completion, the school would hold a dedication ceremony and invite McCabe's father and sister, a basketball coach at Berlin High School.
Board member John Bedlack said he supported the project and liked that it is the court being dedicated, not the entire gymnasium, adding there have been "a number of great administrators and teachers that have gone through the town."
Board Chair Raffaella Coler said she was also very much in support of honoring McCabe, adding "it is important to remember that this comes from the bottom up; students, faculty and teachers" recommended the project.
*****
Also at last Thursday's meeting, the Board of Education, at the recommendation of Superintendent of Schools Mark Zito, unanimously appointed current Griswold Middle School Assistant Principal Jason Maziarz as the new Principal of Stevens Elementary School upon the retirement of Principal John Colonghi, effective July 1.
"[Maziarz] has served in Rocky Hill with distinction for a number of years; he grew up in Rocky Hill, he was a local product, and came back to the system, recruited by [Griswold Middle School Principal Rick] Watson to be a vice principal and actually left a principalship in another community to come back to Rocky Hill," Zito said.
Coler told Maziarz he has "the full board's support and confidence that you're going to do a great job and we are very grateful that you did return to Rocky Hill."
Maziarz thanked his wife, the board and Zito for their support, as well as Watson, "for giving me a hard time every day, or, as he calls it, character development," he said with a laugh, and Colonghi, "who has been one of my greatest cheerleaders all these years."
"As you all know, as Mark [Zito] has suggested, I am a product of the Rocky Hill school system and for the better part of the last 30 years I have lived and worked in Rocky Hill," Maziarz said. "I see no better way to give back to the community than to be part of the schools."
*****
The board also unanimously authorized the superintendent to forward the $31.839 million 2013-14 Board of Education budget to the town manager for Town Council approval last Thursday. The proposed budget is a $1.6 million, of 5.45 percent, increase over the current fiscal year.
The board-approved budget is a $211,080 more than the superintendent's original proposed budget of $31.628 million, a 4.75 percent increase over the current fiscal year, as a result of numerous additions during budget workshops.