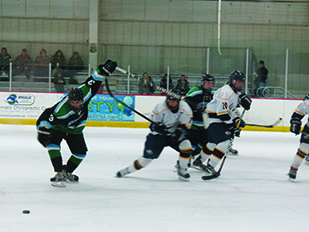 Eagles Cap Off Ice Hockey Season with a Win
WETHERSFIELD - The Wethersfield High School ice hockey team finished a rough season on a high note, holding on for a 3-2 victory at home against Fermi/Enfield/East Granby with a little help from a late second period puck off the post that would have knotted the game going into the third last Monday, Feb. 18.
With Fermi/Enfield/East Granby piling power play pressure on, a shot from the point came through traffic and rang off the top right post, inches away from pulling them back from the one-goal deficit.
"That would have been difficult," said Eagles Head Coach Dennis Tulmieri after the game. "Those kinds of bounces have been going against us most of the year. We got one going for us, so that was good."
In a game that close, that's sometimes what it comes down to. After Wethersfield and Fermi/Enfield/East Granby traded first period goals, the Eagles grabbed the lead when an errant centering pass took a bad bounce that escaped Fermi/Enfield/East Granby goaltender Zack Audet at 11:46. Their opponents would roar back, however, knocking in a one-timer out of a net mouth scramble to make it 2-2.
The Eagles turned defensive zone pressure into scoring at 3:47, after quick neutral zone transition played set up a breakaway that would give them the 3-2 edge.
"We got a couple forwards that can beat their D," Tulmieri said.
It would be the Eagle forwards play on D, however, that would help Wethersfield seal the deal in the final stanza. They held on, despite being outshot 29-22 throughout the game. Although they gave up two goals over the course of the first two periods, the Eagles shut out their opponents in the third. The difference was in the positional play of the centers and wingers, Tulmieri said.
"It was the forwards that were kind of leaving the wings in the defensive zone, and chasing the puck," he said. "Just remember that five guys play defense."