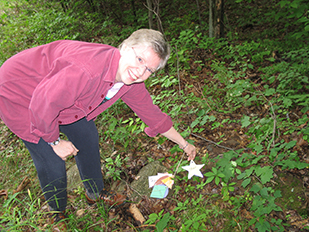 Cromwell Teacher Named 2013 Outstanding Educator
Third grade teacher Lynn Kochiss was named the 2012-13 Project Learning Tree Connecticut Outstanding Educator of the Year in October. Now she is one of five teachers that have been named 2013 National Project Learning Tree Outstanding Educators, becoming the first Connecticut teacher to receive the national award since its inception in 1994.
PLT, a program of the American Forest Foundation, aims to increase students' understanding of the environment and actions they can take to improve it. In Connecticut, PLT is sponsored by the state Department of Energy & Environmental Protection (DEEP).
Kochiss has created the Earth Club at Woodside Intermediate School, in which she leads students in grades 3-5 in environmental research to address concerns in the school. Its members have successfully set up a school-wide recycling program that includes electronics and established winter bird feeders. The club is the only after-school program at Woodside with a wait list.
Kochiss also incorporates environmental themes in her lesson plans, using environmentally-related articles whenever possible and taking every opportunity to bring students outside, sometimes utilizing activities outlined by PLT. Students have ventured outdoors to write poetry after examining trees or studying insects.
She is able to integrate environmental studies throughout each discipline, from math to reading to writing.
"Lynn not only creates an energized and positive climate in her classroom, but she strives to bring that energy throughout our school community," said Assistant Superintendent of Schools Paula Talty.
Kochiss has completed training for the Student Learning Center with PLT and has joined the Connecticut Forest and Park Association's WalkCT Family Ramble Program, where she guides families on nature walks and other outdoor events, often using PLT activities. In "The Forest of S.T. Shrew," participants examine a fallen tree while Kochiss leads a discussion and answers questions about rot, insects and fungus. In "Stories by the Fire," she tells tales about wildlife in the New England winter.
Just like Woodside Intermediate School, which is home to State Teacher of the Year Blaise Messinger, Kochiss is no stranger to recognition for her efforts. She was named the 2011-12 Teacher of the Year at Woodside Intermediate School and was the Connecticut Outdoor & Environmental Education Association's Environmental Educator of the Year in 2011.
Kochiss will be honored at PLT's 27th International Coordinators' Conference from April 29-May 2 in Point Clear, Ala. She has also been invited to attend the World Forestry Center's International Educators' Institute July 7-13 in Portland, Ore.