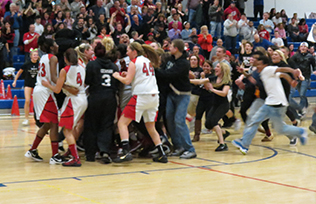 Cromwell Girls Headed to Class M Final
As freshman Alyssa Wright ran out the clock in the final few seconds of the game at Plainville High School to seal a 60-44 win against Weaver, the team fell into a pig pile, while fans rushed the court to celebrate with the Panthers.
Cromwell heads to Mohegan Sun this weekend to face-off against Notre Dame-Fairfield, the winner against Haddam-Killingworth in the other Class M semifinal Friday.
The Panthers got off to a 30-11 halftime lead against Weaver despite leading scorer Janelle Harrison benched early in the first quarter with fouls. Weaver narrowed the gap in the fourth quarter, but free throws from seniors Alexa Riley and Kelly Flanigan put Weaver back in a 16-point deficit in the final minute of the game.
Riley and Fanigan were the high scorers for the game, with 19 and 13 points, respectively, followed by senior Emily Appleby with 11.
Harrison scored seven points for the Panthers, one of which in the fourth quarter marked her 1,000th career point.