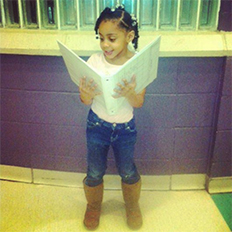 Young Actress Takes to the Stage at the Bushnell
The youngest member of the cast of the musical From the Boat to Obama, presented by Transforming Anew, Duncan will portray President Barack Obama's daughter and, her preferred role, a ballerina. The show will be presented May 1 at the Bushnell.
"The play is the journey of Africans before slavery to the current accomplishments of African-Americans and it shows the growth of the people coming from kings and queens into slavery and out of slavery and we stop along the way in different periods of time," said Transforming Anew Director Mary Taylor. "There's a lot of dancing and singings--it's a musical and there's history that comes alive on stage."
Each year, Taylor seeks to find a few members of the community to fill roles within the production. Taylor saw Duncan in one of her previous performances and contacted her mother, Marilyn Jusino, to ask her to join the 28-member cast.
"I saw her in the production of The Wiz and I thought she was very focused and it just felt like somebody I could use in the play," Taylor said.
Duncan played Glinda, the good witch's fairy, in The Wiz last year, at just four years old. At age two, she got her start on stage in Into the Woods.
Duncan rehearses twice a week for her two roles in From the Boat to Obama and spends plenty of time practicing at home. Her knack for acting at such a young age is no surprise to Jusino, whose older sons Malik, 10, and Grant, 14, are also actors who both attend the R. J. Kinsella Magnet School of the Performing Arts.
"[Grant] always lands the lead roles. He actually has Romeo and Juliet coming out and he's Romeo," Jusino said.
Jusino hopes to enroll her multi-talented daughter, who also sings and does cheerleading and gymnastics, in the magnet school next year.
Ticket prices for the Wednesday, May 1, 7 p.m. performance of From the Boat to Obama start at $10 and can be purchased at
www.bushnell.org
or by calling 860-987-6052.