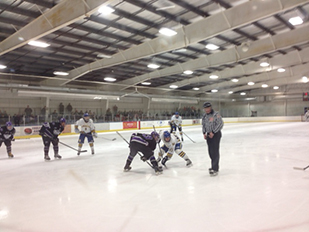 Newington Ice Hockey Takes Second Straight State Title
NEWINGTON - The last time the Newington High School hockey team met its Bolton-Coventy-Rockville (BCR) rivals, the two teams battled it out in a tight, physical and defense-dominated contest at Newington Arena to a 1-1 tie.
For those of you who aren't "into the tie business," as ESPN's Stephen A. Smith likes to put it, don't worry--the Indians and BCR settled the lingering deadlock between them, but they had to travel to Ingalls Rink in New Haven Saturday, more than 33 miles away from where their last matchup was set, and monumentally raise the stakes to do it.
Newington capped off a storied state tournament run that included a Sports Center highlight reel shout out, edging the Rams in a way that would be fitting given the way the two last parted ways--by one goal. Indians goaltender Drew O'Leary pitched a shutout, and sophomore forward Marco DiPaola netted what turned out to be a second period game-winner, as his team skated to their second consecutive state title.
The Indians held their opponents to only 15 shots in the three periods of play, while pelting Rams goalie Cameron Earle with 22 of their own.
After matching penalties created a four-on-four scenario, DiPaola capitalized with a wrist shot that he roofed for an Indian lead in the second period.
The Rams' best opportunity to even the score came late in the second period, in the form of a power play situation. The Indians shut down the passing lanes and kept BCR's shots to the outside, minimalizing the powerplay's scoring opportunities. Another man-advantage-this one coming out of the Rams pulling of their goalie-was erased by a BCR penalty, ultimately sealing Newington's victory.
As the closing seconds wound down, the crowd of Newington supporters, as well as the players, knew it. Cheers erupted before the final even buzzer rang, and when it did, ecstatic players emptied the bench and rushed the net to dog-pile on top of their goaltender.