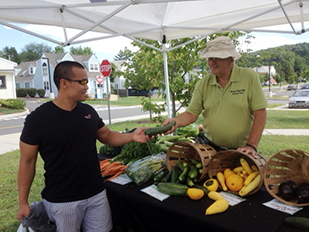 Wethersfield Farmers' Market Brings New Goods
WETHERSFIELD - An expanding Wethersfield Farmers' Market will begin its weekly sales of fresh grown produce and other items on May 16.
The market, which runs through Halloween, has increased its roster of vendors to 35 to 40 for this year and will have a variety of extra programs that include live music and educational presentations at its Solomon Welles House, 220 Hartford Ave., location.
"Last year we were just breaking 30 [vendors], with about 18 the year before," said farmers' market organizer Stephanie Jarm.
This year's vendors include Glastobury's Dondero Orchards and Killam & Bassett, as well as Oxen Hill Farm from Simsbury. Eaglewood Farm will be bringing a mix of poultry, salmon and eggs, while customers can try Sweet Pea Cheese's goat cheese, milk and yogurt. A number of craftsmen and artisans, including All Things Beaded and Wethersfield's own Pysh Jewelry, will have stands at the market as well.
The slew of locally-grown fruits and vegetables, which, according to Jarm, run for about the price of supermarket -old organic products, draws market-goers looking for healthier food. Not only that, but the experience is more personal, Jarm said.
"I think being able to talk to the person that produces your food is priceless," she said. "You can make requests and they tell you about the seed. A lot of our farmers try to stay away from GMOs or any additives in the soil."
The farmers can also show customers how to enhance what they purchase--the Wethersfield Farmers' Market will be releasing a cookbook that will be on display at each of the stands.
"You pick up a weird vegetable and they can be like, 'Oh, there's a recipe for that,'" Jarm said. "It just makes it so much more tangible and accessible to people."
The market will also offer baked goods, Italian ice, and food trucks from Hartford's Lucky Taco and the Hartford Advocate Best Cupcake award-winning Nova Cupcakes. For the first time in its history, the market will also have kettle corn, Jarm said.
Other related programs that will be run throughout the market's five and a half-month duration include lectures at the Solomon Welles House geared toward sustainable living. Visitors to the market can learn about healthier food, fuel-saving transportation such as biking, and how to plant seed bombs.
On Sept. 12, the market will hold its Farm to Table Dinner, a catered meal utilizing all of the vendors' products.
The Wethersfield Farmers' Market will be held on Thursdays from 3-6 p.m., and 3-7 p.m. on the first and third Thursdays of each month, Jarm said.
"We got feedback about our time and people not being able to get there after work," she said.