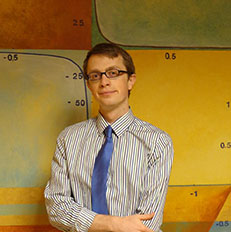 Berlin Native Brings Russian Math School to Rocky Hill
The Rocky Hill location of the school will be led by Berlin native Christopher Green, who was first introduced to the Russian School of Mathematics (RSM) as a teenager when he attended one of its summer camps in New Hampshire.
"I was curious for this place to exist under the name Russian Math Camp," he said, adding there had to be some appeal for the campers, not just the parents. "I went for two weeks then called home and asked to stay for another two."
Beginning this summer, Green, a Harvard graduate and math teacher, along with other trained, enthusiastic instructors, will tutor students in grades K through 12 of all abilities at Rocky Hill's RSM location.
Green explained the RSM program, unlike many after-school tutoring programs, does not teach specifically to standardized tests, but is designed to help students build math skills to give them the confidence and preparation to do well in math, which usually results in higher test scores.
"No matter what level, we're looking to challenge them; really make them think critically," he said.
RSM is offered in a classroom setting, allowing students to build off of and challenge each other. The classes are divided by grade and ability levels.
Green said he has seen the results of RSM manifest themselves in the form of fourth-graders learning the basics of algebra and seventh-graders scoring 800s on the math SAT.
"You can really change what's possible for a kid," he said. "We can make a math person out of a kid who otherwise may have felt intimidated."
The earlier a child starts the better.
"Many of our students do this for multiple years and that's really when you see the results," Green said.
While the attraction of RSM may be clear to parents--better grades and test scores--the real outcome is for students to become comfortable with math and realize it doesn't have to be a laborious task.
"To be doing that much more math than what you're already doing in school sounds like a lot. It's a commitment but it's an investment," Green said. "When I talk to parents and they're saying that their child's outlook on the subject has changed, that's really the value of our program.
For more information on the Russian School of Mathematics program, contact 860-933-9105 or
rockyhill@russianschool.com
or visit
www.russianschool.com
.