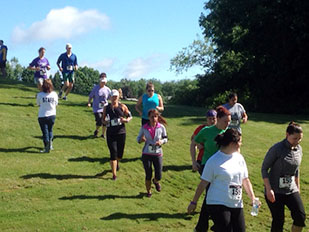 Race to End Domestic Violence Honors Officers
NEWINGTON - The Second Annual Race to End Domestic Violence dodged the odds--a weather forecast that predicted heavy rain throughout the weekend--to draw hundreds of participants to the John Wallace Middle School event Saturday morning.
"We were really nervous about the weather," said Sue Lavery-Hilerio, one of the race directors, "but we got so many walk-in registrations today. It really blew our minds."
Not only did the turnout exceed what they would have expected given the forecast, it actually dwarfed last year's level of participation, Hilerio said. She estimated that the event drew around 400 runners.
"We definitely have more than last year," Hilerio said. "I'd say we probably have about 150 more than we had last year."
Participants walked a 5K route that wove around the school's outdoor basketball courts, through the fields and onto an uphill trail in some woods.
"Three miles ain't bad, but it's the hills that kill you," said one runner, who asked to be referred to only as Brandon "T."
For Brandon, it was more than just a morning workout--the issue of domestic violence is one that is highly personal to him.
"Made some mistakes and doing this to correct it," he said.
Then there's Windsor Locks resident Darryl Johnson, who has been affected by the problem in a different way.
"This cause is a little close to me," Johnson said. "Far too many women I know have been abused."
Johnson, who runs around two races every month, said that less than ideal weather would not have stopped him.
"Either way, I would have been here," he said.
If deceased Newington Master Police Officer Peter Lavery, who, along with Police Officer Ciara McDermott, is being memorialized through the event, were still alive, he could relate. Hilerio's uncle, Lavery witnessed his share of domestic violence.
"Peter wasn't a primary victim--he was a bystander," Hilerio said. "So I think it shows that everybody's affected by it."
Hilerio hopes to raise somewhere in between $10,000-$15,000. Last year the event brought in $12,000. A third of the proceeds will go to the Prudence Cromwell Center, a domestic violence shelter and this year's donation recipient.