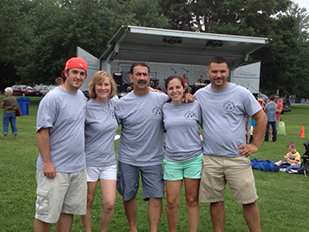 Mikey's Place Summer Fest Gives Back and Puts on a Show
WETHERSFIELD - It was 1998 when the Daversa family lost their three-year old son Mike--or "Mikey"--to spinal muscular entropy, a form of muscular dystrophy.
Fifteen years later, his legacy lives on through Mikey's Place, the wheelchair-accessible playground built on Hartford Avenue just across from Wethersfield's Cove Park, where, for the past four years, his family members and local musicians have gathered to keep his memory alive.
"He would've been confined to a wheelchair and Wethersfield didn't have [a wheelchair-accessible park]," said Mikey's mother Mary Daversa.
In no easy feat, the family raised $500,000 in donations to have the park built.
"That was pretty much the generosity of others," Daversa said.
And the generosity hasn't stopped. On Saturday the Daversa family hosted the fourth annual Mikey's Place Summer Fest, a concert fundraiser that goes toward park maintenance, spinal muscular entropy research, and two $500 scholarships through Wethersfield's Dollars for Scholars Foundation.
"It's been pretty successful every year," said James Queiros, who helped run the event. "We've raised about, average, $1,000 a year so far. Last year we had $2,000."
The funds collected through the concert add to the donations generated from other efforts, such as a 5K road race every fall and a golf outing event.
But today, the Summer Fest is accomplishing two things: contributing to the cause while giving local artists an outlet.
"Everything is as local as possible," Daversa said. "We try to keep it Wethersfield-specific, but we have a band that's coming from Hartford and one from Manchester. It's great for the town to see what kind of talent is right here."
The concert featured the bands and acts Take Two, Marie Godart and Ben Darius, Coo Coo Wiseman, SteveSongs, American Orpheus, Little Ugly and Laces Out, amongst other artists. Festival-goers were asked to pay a suggested $8 donation for adults and $5 for children.
When Wethersfield resident and event organizer Dave Mason thought of the idea four years ago, he had been trying to come up with a solution to the problem local artists had with a lack of local playing venues.
"It's kind of tough for musicians in this area," Mason said.
When he took the idea to Queiros, the two decided that they wanted it to be about giving back in some way, as well. Haiti had just been hit with an earthquake and they initially thought of holding an event to aid relief efforts, but such a large-scale campaign became overwhelming, Queiros said.
"It ended up being too much, so we decided to keep it local," he said.
Helping Haiti may have seemed like a large-scale operation, but what the Summer Fest, as well as the collective campaign for Mikey's Place and muscular dystrophy-related research has accomplished, already is no small task.
"It's extremely crucial because there's not a cure for it at this point in time, so any research can be helpful," Daversa said.