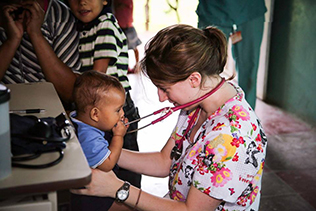 Nurse Receives Support for Honduras Medical Mission
WETHERSFIELD - Wethersfield resident Jennifer Andrews, a nurse at Hartford Hospital, recently returned home from a medical mission to Honduras. Andrews joined forces with Global Brigades, a health and development movement, and traveled more than 2,000 miles to provide medical services to help people in dire need of medical attention.
Andrews and other health professionals, as well as medical students from Temple University in Philadelphia, set out June 16 for a week-long trip to Honduras with the goal of aiding as many individuals with medical concerns as possible.
The 2012 UConn School of Nursing graduate's interest in global health began after studying abroad in Cape Town, South Africa, during her senior year at UConn.
"Our trip and volunteer work in clinics and hospitals in Cape Town basically started my passion for global health," said Andrews. "I realized how big a difference I could make in the lives of people with very little medical care, and I was looking for an opportunity to continue with my interest when a friend told me about Global Brigades. It's a great way for medical professionals to help those in need."
During a span of three days, the team of 23 provided a variety of medical services to more than 500 people in a makeshift clinic set up in a local schoolhouse.
"We gave them medication and education," said Andrews. "Anyone who came in the door, we helped."
The members of the Brigade provided medications for everything from diabetes to hypertension. They extracted teeth, filled cavities and educated children on the basics of health and hygiene practices, including showing them how to brush and floss their teeth. The team did it all.
Andrews said we, as Americans, take our healthcare system for granted and are lucky to have such an advanced degree of healthcare in this country.
Many of the patients who visited the clinic walked more than two hours from remote villages and waited in long lines, some all day, to receive services.
"Nearly 100 people were lined up at the gate on the first day, even before we arrived," Andrews said.
And they had no complaints. "They were just so happy to have someone care about them and help them with their medical problems," she said. "They couldn't thank us enough."
Andrews said the Brigade was a lot of work, but her interactions with the Honduran people made it all worthwhile. She is very grateful for the support of her own local doctors in Rocky Hill and Wethersfield, who donated supplies for the trip.
"My dentist, Dr. Stuart Shoflick, and my orthodontist, Dr. Barry Rosenberg, were both very generous and contributed much needed items, including dental floss, toothpaste, gauze, and medical gloves. We wouldn't have had enough of those supplies if Doctors Rosenberg and Shoflick hadn't been so giving and donated them," she said.
Rosenberg said he is proud to be a contributor to this worthy cause.
"It is heart-warming when young people care about healing the world, and actually volunteer their time to help people in need," he said.
Dr. Shoflick echoed that sentiment
"We need more young medical professionals like Jennifer to get involved in global health and who are passionate about making a difference by bringing support and high-quality medical care to developing communities," he said.
Andrews said she plans to participate in future medical missions and she urges other health care professionals and medical students to take the time to give back and volunteer.
"It's really an amazing feeling knowing you are making such a big difference in so many lives," she said. "It's a great experience and I encourage everyone to try it."