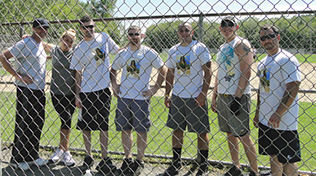 Scholarship Softball Fundraiser Held This Weekend
Maryann was lost due to a drunk driver in January 2010 at 27 years old. Her family established the Maryann Loprete Memorial Foundation to give out a scholarship each year to a Rocky Hill High School student. This weekend's third annual softball fundraiser will contribute to the foundation for the scholarship as well as the causes Maryann was so devoted to.
"She wanted to give more than she could," Angela Loprete said of her daughter. "She was little--she was 5'2"--she had the biggest heart of anyone."
Maryann had a passion for helping the homeless, even befriending a homeless man where she lived in Stamford. Last year the foundation donated to a homeless shelter in Hartford in her memory.
Maryann was known to gather all of her friends together for softball games, prompting the foundation to create this fundraiser, Loprete said, adding many of Maryann's friends attend each year.
"We're hoping that every year we have more people that want to participate. We're hoping that there are other leagues that one day we can have a tournament to help another organization or to help another family," she said.
In addition to keeping Maryann's memory and philanthropic efforts alive, Loprete hopes the foundation, and Maryann's story, will send a clear message about the real consequences of drunk driving.
"My son speaks to the students about how no one is invincible," said Loprete, who has been outspoken about the need for harsher penalties for drunk drivers. "We've been cheated out of a life because you had a person who didn't think."
The third annual Maryann Loprete Memorial Foundation Softball Fundraiser will be held Sunday, Aug. 18 (rain date: Aug. 25), at Elm Ridge Park in Rocky Hill. Games will begin at 10:30 a.m. and 1 p.m. The day will also include a barbecue, face painting and prizes. Donations are payable to the Maryann Loprete Memorial Foundation, or visit
www.maryannloprete.org
to make a donation online. For more information on the softball fundraiser, call 860-328-1602.