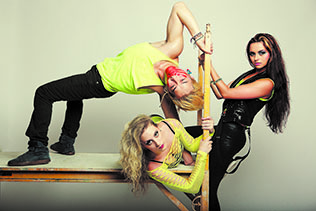 Smooth Rhythm Dance Company
The studio, just above Roman's Pizza on New Britain Avenue, which is in its final stages of construction and is slated for a grand opening next month, will offer ballet, jazz, hip hop, modern, belly dance and tap dancing instruction for students of all ages and abilities.
"I love teaching, it's my passion," said Raptelis, who took up dance at age four, having had an early enjoyment of dancing to traditional Greek, salsa and mainstream music. She trained extensively at several studios throughout Connecticut in ballet, hip hop, modern, toe, tap, Bollywood and belly dancing before becoming an instructor at franchise company Arthur Murray.
"I started teaching at Arthur Murray and bringing my choreography in," she said. "Eventually I decided that I wanted to go on my own and open my own studio. Arthur Murray reminded me that this is what I want to do so continue doing it."
Raptelis brings her expertise as a retired professional ballroom dancer and with numerous productions on her resume, including AIDA, Miss Saigon, The Nutcracker and Pop Goes to Vegas. At age 18, she even got the opportunity to dance with Beyonce, advancing to the second round of auditions as a back-up dancer for the singer.
Now Raptelis hopes to influence students following in her footsteps. With connections at Fox and Channel 3, having choreographed and danced for numerous events, she plans to give her dancers as much exposure as possible. Differing from many other studios in the area, Smooth Rhythm Dance Company will also offer individual instruction.
"The child can have that opportunity to be one-on-one with their instructor. A lot of studios don't offer that, which is too bad because when can an instructor give you all that time for a session? They learn a lot," she said.
Of course, Smooth Rhythm also caters to those who don't plan to go the professional route and just want to learn a few moves. Students can partake in an end-of-year recital as well as a Christmas show choreographed by Raptelis.
For more information on Smooth Rhythm Dance Company, 154 New Britain Ave., Rocky Hill, contact
smoothrhythmdance@yahoo.com
, 860-436-1319 or visit
www.smoothrhythmd.com
.