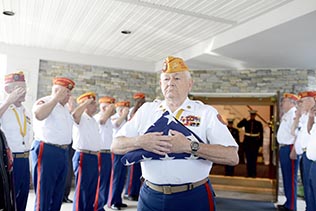 Remembrance Vigil Held at Iwo Jima Memorial
NEWINGTON - Newington residents took time to pay tribute to fallen veterans at Saturday night's fifth annual VJ Day Candlelight Ceremony of Remembrance.
The event was held to commemorate the United States World War II victory over Japan, as well as honor those that died while serving in the military, said Gary Roy of the Iwo Jima Memorial Foundation.
"We're remembering all the veterans who were in the service and passed away," Roy said. "It doesn't make a difference when they served or for how long; We're trying to pay respect to all our fallen veterans."
The ceremony began at the Newington Memorial Funeral Home, which sponsored the event, and finished at the Iwo Jima Memorial itself, where vigil-goers lit candles and listened to the reading of the names of fallen veterans.
The ceremony also included the laying of a flag next to the memorial's "eternal flame," as well as the playing of bagpipes and Lieutenant Governor Nancy Lyman was amongst its speakers. The event finished with taps and a military firing squad.
The Iwo Jima Memorial in Newington is the only one in the country that was built by survivors and runs solely on donations and volunteer efforts, Roy said.
"It's the only one like it in the United States," he said. "When I talk about this to other people, they're amazed that a group of World War II veterans got together and did this. [The battle is] part of history and it's important to hear about it from the people who were there."
Roy has been with the Iwo Jima Memorial Foundation for nine years and got involved when he met two survivors of the famed World War II battle at a local parade.
"From that day on, I can't do enough for them," Roy said. "They have my most amount of respect."