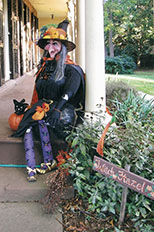 Main Street Ready for Scarecrows
WETHERSFIELD - Dozens of scarecrows will once again line Main Street in the business section of Old Wethersfield. The 18th Annual Scarecrows Along Main Street runs from Saturday, Sept. 28, through Sunday, Oct. 27.
This popular event draws visitors to the Historic District to see the many unusual and ingenious scarecrows built by children, families, adults, businesses and organizations. The event is free of charge and best enjoyed during daylight hours. Old Wethersfield is wonderful place to visit during the fall season and the scarecrows are just one more reason to do so. Smiles are guaranteed.
Anyone interested in entering a scarecrow in the event or for more information, call 860-721-0663.