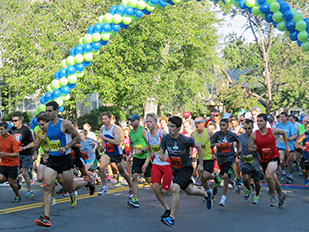 Old Wethersfield Race Has Record Turnout
The course began along historic State Street and edged the scenic Wethersfield Cove, ending at Cove Park. The 10K was a double loop of the course.
The top two finishers in the 5K race were locals, with Jesse Wanzer of Rocky Hill winning in 17:39, followed by Troy Stegman of Wethersfield in 17:58. Madeline Hayes of Newington was the first female across the line in 20:36, with Dani Kennedy of Bolton behind her in 20:59. A total of 486 entries finished the 5K.
Samuel Alexander of Waterford was the first 10K finisher in 31:21, breaking the 32:10 course record set by Eric Blake in 2009. Chris Rosenberg of New Britain was the runner-up in 32:38.
Bessy Leszczynski of San Diego, Calif., was the first female finisher in the 6.2-mile race in 43:51, followed a few seconds later by Vanessa Russo of Cromwell in 43:58. A total of 427 runners finished the 10K course.
The Old Wethersfield 5K and 10K is organized by the Hartford Marathon Foundation.