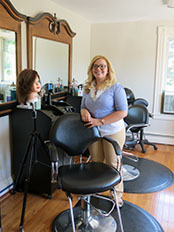 Nirvana Salon Academy
Owner Nilsa Carlone took over the cosmetology school in July, relocating to Main Street in Glastonbury.
"I've been a cosmetologist for nine years and I've always wanted to teach," she said. "It's always been a dream of mine to open up a school and then the opportunity came up."
Nirvana is unique because it allows students to complete their coursework on a flexible schedule, either full-time or part-time. Typically, full-time students complete the curriculum in about 10 months and part-timers in a year to a year and a half.
Because of the school's flexibility, it appeals to students who work full-time or are looking to acquire new skills in the field.
"We have a few massage therapists that are taking the aesthetician course," Carlone said, which includes spa treatments.
Nirvana offers hairdressing and cosmetology, professional skincare and nail technician courses. The hairdressing and skincare courses include both theory and practical/clinical hours. Small classes allow for instructors to have more one-on-one time with students. The school's salon environment better prepares students for the transition to a professional salon and the course materials are professional grade used in working salons.
Students take a practical and theory exam at Nirvana and must pass with a minimum grade of 85 percent to ensure they are prepared for the state board exam. The written exam is based off of the same material used in the state Department of Public Health board examination, Milady textbooks, required for cosmetologists to obtain a license.
Nirvana boasts a 100 percent student pass rate on the board exam.
Upon obtaining their license, Nirvana will assist students with employment opportunities.
Nirvana Salon Academy also accepts clients for salon services performed by students, using only professional quality products.
For more information about enrollment or salon services at Nirvana Salon Academy, 2853 Main St., Glastonbury, call 860-633-2081 or visit
www.nirvanasalonacademy.com
.