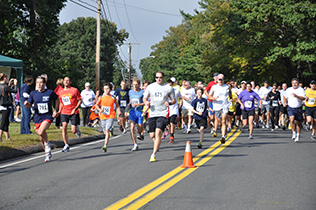 Annual Hoof-it for Haiti Benefits Twin Parish
St. Elizabeth Seton has a $1,000 monthly commitment to the parish to feed, educate, shelter and provide medical care for the members of St. Anne's Parish as well as cover maintenance expenses and teacher salaries. All donations exceeding the church's monthly commitment go toward special projects.
Last year, St. Elizabeth Seton was able to provide St. Anne's with a $37,000 donation to complete the second floor and finish rooms on the first floor of a school, race organizer Jeff Cantin said. A dedication ceremony was held over the summer upon the project's completion.
Radio personality Mike Stacy from Lite 100.5 WRCH will kick-off the race, timed by The Last Mile Racing, at 9:30 a.m. on the church grounds. Volunteers from the Rocky Hill Girl Scouts will volunteer at water stations on the course.
Runners and walkers can unwind post-race with massage therapy by Nova Spa of Rocky Hill and Reiki provided by Inner Balance Reiki.
The Glastonbury Villari's Martial Arts Demo Team will perform on race day and there will also be a fall mum sale, with proceeds benefiting St. Anne's.
Race day registration is from 7:30-9 a.m. and costs $25 for adults and $10 for children 12 and under. A family fee of $45 covers three or more. Adults who register online before Sept. 20 pay $20. This year, there will be a Kids Run for ages 12 and under starting at 9 a.m. and a 2.5-mile Fun Run/Walk. Individuals and families who raise $100 in pledges are registered for free. The top three finishers in all nine divisions go home with awards.
Online registration, registration forms, sponsorships sheets and complete information is available at
www.hoofitfohaiti.org
or on the parish website,
www.hoofitfohaiti.org
. For more details on the race, call Jeff Cantin at 860-231-7093 or contact St. Elizabeth Seton Church at 860-529-3222 or
eileen@sesrockyhill.org
. Hoof It For Haiti is also on Facebook at
www.hoofitfohaiti.org
.