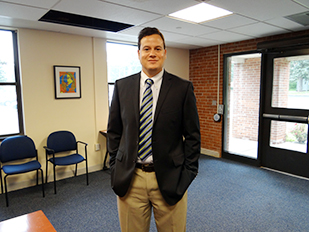 Internal Hire Assumes NHS Administrative Position
NEWINGTON - Newington High School has a new assistant principal--Daniel Dias, a history teacher at the high school, will fill the position left by Michael Gaydos, who became principal at John Paterson Elementary School at the start of the summer.
Newington Superintendent of Schools William Collins made the announcement in a press release in August.
"We did an intergalactic search, as we always do," Collins said. "We're finding that the best people seem to be in our own backyard. Being in district, he knows what we've been through."
What the district has been through is consistent with what others have been dealing with--transitioning in order to meet widespread education reform mandates that call for rigorous teacher evaluation and training, data-based student progress monitoring, and the controversial Common Core State Standards, amongst other changes.
For the Newington district, part of the process was establishing what Collins refers to as a "shared vision for effective teaching," a subject that has been discussed through the Aspiring Leadership Academy, which Dias attended.
"Dan was involved in that, so he understands what our values are as a district," Collins said. "So it made sense to put him in [the assistant principal] role."
When it comes to effective teaching, the key is inspiring students to take ownership of their learning experience, Dias said.
"It's about engaging students and our teachers are very good at that," he said. "It's about making a student-centered place, where students do a lot of the inquiry."
Amongst the methods for creating that spark are project-based collaboration, student-led presentations and technology use.
"Also let them know how they fit into it," Dias said. "Like if you're teaching history, let them know how it relates back to today."
Dias has also directed Newington High School's Summer Learning Program, running intervention courses to provide extra instruction for students and help eighth-graders transition to the high school.
Dias has taught history at Newington High since 2006 and has served as the Social Studies Curriculum Committee Chair during his tenure.