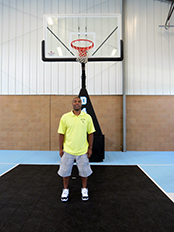 Drive4Stardum, LLC
Johnson, a Springfield College alum and former player with the Connecticut Pride and Springfield Slamm teams, has received a multitude of recognitions during his 25 years of playing experience, including induction into his high school hall of fame and being named Conference Player of the Year, New England's Basketball Unsung Hero Award and a three time All-Conference player and receiving All-America honors as a two-year captain at Springfield College. At Springfield, he led the team in assists all four years and totaled more than 1,300 points in his career. Most recently, he was nominated for the Springfield College Athletic Hall of Fame, into which he will be inducted in the fall.
As a coach, he has trained a number of players that have gone on to compete in the NCAA, including Cromwell's own Alexa Riley, a 2013 senior on the Panthers' undefeated state championship team, who will play for Johnson's alma mater, Springfield College.
With Drive4Stardum, Johnson offers camps, clinics, training, individual lessons and AAU teams for young athletes hoping to compete at a collegiate level or those just looking to hone their skills.
During sessions, Johnson incorporates drills to improve defense, agility, ball handling, shooting, passing, rebounding, strength and conditioning training and speed training.
Drive4Stardum offers individual and group training, including coaching practices for teams.
Drive4Stardum's Summer Camp recently ended for the season, but training camps will be offered during school break periods. An after school training program is help Monday through Thursday, with the option of doing each day or just a few, running through Nov. 1. Programs run from 4-5:30 p.m., 5:35-7:05 p.m. and 7:10-8:40 p.m.
Beginning Saturday, Fall Ball will begin on weekends through Nov. 24. The two-hour program includes an hour of drills and stations and an hour of play. Fall Ball provides an opportunity for athletes to gain exposure, as well, with scouts often attending the program.
Johnson also offers recruiting services for athletes, whether or not they are involved in the facility's programs, to help them in their pursuit of an academic/athletic scholarship.
Though advancing in the sport requires discipline and rigorous training, what's most important to Johnson is that his athletes are balanced, on and off the court, regardless of the level at which they play. Drive4Stardum has a sports psychologist on staff to assist athletes and their families with juggling academics and athletics.
Johnson, who has a master's degree in athletic counseling, works one-on-one with individuals with disabilities who want to play basketball.
"Socialization is an important piece [of basketball]. It's universal--it's played everywhere in the country," he said. "This doesn't just pertain to athletes that want to go to college; it's for all individuals who want to learn and turn that potential into success and that could be on a variety of different levels."
Drive4Stardum, located behind The Doggie Castle on Coles Road in Cromwell, can be reached at
drive4stardum@gmail.com
, 860-834-2809 or visit
www.drive4stardum.net
.