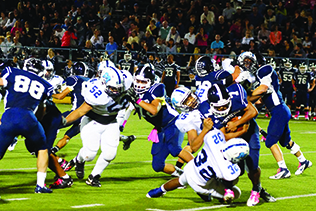 New Leaders Hope to Continue Eagles' Success
WETHERSFIELD - The Wethersfield High School football team is looking to maintain the momentum of last year's success, but they'll have to do it without some of the players that led them just one rung from atop the Central Connecticut East standings in 2012.
With a 6-4 overall and 4-1 division record, the Eagles rode quarterback Zack DeCaro's 14-touchdown performance into second place, just behind Hartford Public, last season. The then-senior had 1,267 passing yards on the year.
Backup quarterback Matt Sanzaro, a sophomore last year, completed five of his six passes for 37 yards in his only appearance of the season and this year will look to fill the big void left with DeCaro's departure.
Under center is not the only spot that will need some new veteran leadership--the Eagles will also be without running backs Ivan Mangual and Devon Henry. The two combined for more than a thousand rushing yards last year, with Mangual leading the team with his 582 and Henry chewing up an impressive 538 of his own. Mangual averaged more than 7.00 yards per carry and 64.70 per game. Henry also made his presence in the ground game felt, going an average 5.98 yards per carry and 59.80 per game.
Mangual was also the Eagles' touchdown leader, scoring eight last year. Henry's five touchdowns were good for second on the team.
A number of last year's seniors also graced the stat sheet when it came to the Eagle aerial attack. Wideout Kevin Premto led the way with four touchdowns and 497 receiving yards. Greg Schroeder and Whit DeVeaux each found the end zone three times last year, putting up 220 and 182 receiving yards, respectively.
This year the Eagles will look to unseat Hartford Public, who went undefeated in Central Connecticut East play last year and blew Wethersfield out 40-14. The Eagles kick the season off at home against the Rocky Hill High School Terriers Thursday, Sept. 12, at 6:30 p.m.