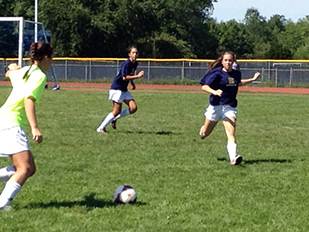 Indians Drop Pre-Season Game to Northwest Catholic
NEWINGTON - A controversial second half breakaway goal sealed a 2-0 preseason victory for last year's Central Connecticut Conference frontrunner, Northwest Catholic, in its matchup with the Newington High School girls soccer team Saturday afternoon.
The two teams squared off at Wethersfield High School's varsity soccer jamboree, with Newington looking to size up last year's undefeated conference rival and maintain at least some of the momentum that catapulted them to the number three position in the conference last season.
After going ahead 1-0, Northwest Catholic locked down on defense, controlling play in midfield and keeping the Indians out of their penalty area. Newington's best chance of the second half came late, when a shot from above the 18-yard line skimmed just over the crossbar.
At the Newington end of the field, the Indians held their own, denying a series of Northwest Catholic shooting chances that came off of pressure-prompted turnovers. They would give up the next goal, however, when a Northwest Catholic forward ran through a gap in the defense to take a through ball that launched her onto a breakaway. The ball found the back of the net while disgruntled parents on the sidelines chastised the officials, claiming the player was off-side.
Last year's 8-4-2 Newington team finished in third place behind Hall High School and conference leader Northwest Catholic. They will look to build on that success without Senior Bowl selectee Jalen Middlebrooks, but this season's roster is not lacking in veteran leadership. Seniors Abigail Benner, Brooke Hellman, Caitlin Johnson and Heather Delude will lead the Indian charge this season.
Newington gets its rematch against Northwest Catholic, and its first of two regular season meetings, Oct. 1 at home.