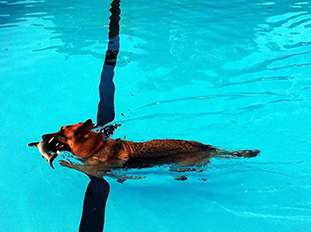 Pups Take a Plunge to Benefit the Cromwell Dog Park
"It's one of our favorite fundraisers," said Dog Park Committee Chair Amanda Drew. "Some of the dogs were seeing water for the first time and some have been there since the beginning."
The Dog Park Committee has spent years raising money for the soon-to-be-open fenced-in space at the corner of Coles and Evergreen roads. The project has hit a few road blocks along the way, however, including the town discontinuing work at about 80 percent completion of prepping the site, Drew said.
"Despite the town discontinuing being a cooperative partner, that did not stop this committee from finishing this project," she said. "We have been raising money for three years to purchase the equipment to make the park a park and we will not stop until we reach our goal, which is to have a fully fenced, off-leash dog park in Cromwell."
The committee has contracted Forest City Landscaping of Middletown to install the fence and complete the park, while the committee continues to raise funds for payment.
Drew said the committee anticipates it will soon be able to schedule a grand opening date for the park.
"My dogs and all the other dogs in Cromwell have been patiently waiting and their dreams of running without a leash will soon be realized," she said.