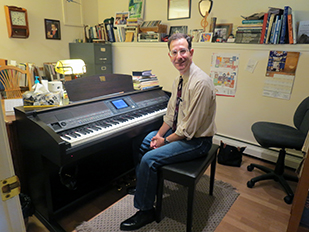 Michael Mainella Studio of Music
"I don't have any pretense of making concert pianists out of all my students," said Mainella, although, in his 20-year teaching career, a few students under his tutelage have gone on to play professionally. "Some are clearly football players, some are artists in other ways, but I think it really adds to the rounding out of an individual."
To that effect, research indicates that taking private lessons as a child contributes to overall development and neurological evolvement of the brain, Mainella said, as well as helps students focus in other areas, such as academics. But, the most immediate benefit for Mainella's piano students, both children and adults, is a greater understanding and appreciation for music.
Mainella realized his love for music at an early age, listening to classical composers on his father's Hi-Fi stereo.
"Beethoven, Tchaikovsky, Mozart--I just soaked it all up," he said.
He took piano lessons his whole life, obtained a degree in music education and choral conducting from Boston University, where he first began teaching, and started his career in church music. Mainella currently serves as music director at St. John's Catholic Church in Cromwell.
Students of every age and experience level take weekly lessons ranging between 30 and 45 minutes, with after-school sessions available. For beginners, he starts with learning the keys, the basics of rhythm and note reading and a little bit of music history.
"I really want them to understand the rudiments of music, besides just playing a piece," he said. The most ideal age to start is between six and eight years old. "A young person's going to pick things up so much quicker."
As of just a few weeks ago, Mainella's students get to practice on a digital piano that allows students to record and listen to what they just played. Once students reach a certain level, they may get the opportunity to practice on Mainella's Steinway Grand Piano, particularly toward the end of the academic year, when students rehearse for their annual recital.
"It's for all my students, so it gives some of the older ones a chance to see how far they've come and the little ones get to see what they can aspire to," he said.
For more information, Michael Mainella can be reached at 860-324-0718 or
mmainella@wesleyan.edu
.