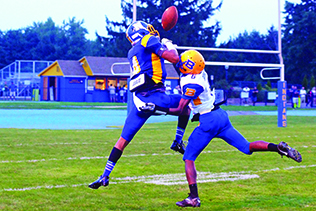 Big Win For Indians Football in Season Opener
The home team capped a two-play drive on its second possession with a seven-yard scoring jaunt by senior Isaiah Young, who finished the night with a touchdown trifecta, adding a 10-yard run in the third quarter and a 46-yard burst in the final stanza to seal the victory. Young rushed for an eye-popping 236 yards on 24 totes.
"Tonight was Isaiah Young's coming out party. He was primed and ready. He had been under the radar, but now people know his name," third-year head coach Roy Roberts said of the senior running back.
A bad Bacon snap led to a Newington safety before the Indians marched 65 yards in seven plays, capping the drive with a Jake Hedberg to Jorge Rivera 13-yard pass to push Newington ahead, 18-0, with 5:28 left in the first quarter.
Hedberg finished the night 16-for-19, good for 232 yards and a quartet of touchdowns. He connected with Kyle Armour on back-to-back touchdowns of 11 yards and four yards in the second period and hit Rivera with a 36-yard strike that gave Newington a 40-6 lead at halftime. Armour's second score, a one-handed grab in the corner of the end zone on fourth-and-goal, had the Newington crowd buzzing. He finished with 77 yards on five catches.
"I've been telling you guys for two years now that Jake Hedberg is the best quarterback in the state," Roberts said. "In my opinion, he's the best around and he's only a junior. He keeps getting better and better.
"The difference between being a good quarterback and a great quarterback is that Jake's always mentally in tune and he's mentally tough. He's intellectually aware on every play and he's one of our hardest-working guys. Jake is the engine in the car," Roberts said.
"Our offensive line - Ted Keltonic, a three-year starter at left guard; Dave Anastasio, a two-and-a-half year starter at right guard; Marcus Guadarramma, a two-year starter at left tackle and Nate Kennedy, a two-and-a-half year starter at right tackle - was phenomenal tonight. I've been here three years and these guys have been in the program for three years. I love them. They did a great job protecting Jake," according to Roberts.
The Bobcats found the end zone with under a minute left before halftime when quarterback Nate Kozlowski hooked up with Ryan Duclos on a 72-yard touchdown. Though Bacon Academy scored twice in the fourth quarter, it was hardly enough to combat the potent Newington attack, strong specials teams play and tough defense that never let the Indians' first-time rivals back into the game.
"As coaches, we preach character. I tell the guys character wins. I talk to them about character all the time. This win is going to be forgotten, but what will be remembered is the character we walk around with and the character we carry ourselves with as we represent Newington. I want to build a program where we're going to win with character, where our players take pride in everything they do," Roberts said..
"We have a middle linebacker, Nick Mamet, who's been a three-year starter. He embodies character. When you look at him you think there's no way this kid's a football player. When he puts that helmet on, he's totally different. He's a leader offensively and defensively, and he doesn't play offense. He works his tail off and he made a lot of great plays tonight, the kind of plays people might not have seen.
"I saw a lot of young men who've worked hard to get to this point and to be 1-0. They wanted to get the season off on a great note. That was our goal. We feel that we have a new season each week and we want to be 1-0 each week. We're going to work really hard to be 1-0 against a very tough Conard team," said Roberts.