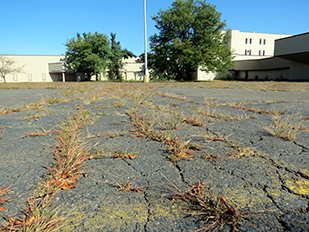 Zoning Department Cracks Down on Blight Violations
The 180,000-square-foot office complex has been vacant since the department store chain went out of business in 2002 and deterioration of the building and property has escalated ever since. Weeds and grass grow through hundreds of cracks in the parking lot, overgrown trees and stray branches lean against the damaged building with boarded up windows and doors. Some have even used the area behind the building as an illegal dumping ground.
Director of Planning and Zoning Kim Ricci said Zoning Officer Frank Kelley has prepared a notice of violation warning requesting voluntary compliance, but could not confirm whether it had yet been delivered to property owner Haven LLC of Brooklyn, N.Y.
Rocky Hill's blight ordinance, first established in 2003, was revised last year by the Town Council to allow the town to better enforce the ordinance. After receiving a notice of violation, the property owner has 10 days to rectify the violations or they may be issued a citation and eventually a cease-and-desist order with a fine of $100 per violation per day. The homeowner or occupant may request a hearing within 10 days of receiving the initial citation.
Blight violations could include missing, broken or boarded windows or doors; collapsing structures and deterioration; cracks, holes or rot in exterior walls or foundations; torn insect screens; improperly stored garbage; overgrown grass or weeds; dilapidated fences; vermin infestations; or any other exterior condition that reflects "a level of maintenance which is not in keeping with community standards," is attracting illegal activity, poses a fire or health hazard or interferes with the use and enjoyment of surrounding properties, according to the revised ordinance.
Ricci said Ames is not the only property in town that has fallen into disrepair--often the condition of residential properties in a state of foreclosure will fall below community standards.
"Properties will have tall grass and peeling paint because all of a sudden no one's there," she said, adding banks usually have maintenance companies assigned to foreclosed homes. "I think it's unfortunately an issue that's kind of in the forefront."
When a possible blight violation is identified, several departments work together to enforce corrective action.
"We do a team approach--it could be a possible zoning matter, and we in the zoning department certainly have been trying to enforce, but it could be a matter for the building department and also possibly the health district."