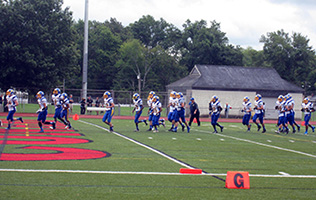 Indians Football Falls to Conard
NEWINGTON - Newington headed to Conard High Saturday in search of their first 2-0 start since 2007, when they started the year 5-0. However, Conard continues to be a venue of misfortune for the Indians, who lost 20-13 at the hands of the Chieftains.
In a game filled with injuries, penalties and mistakes, scores were tough to come by for both the Chieftains and Indians. Conard, in search of their first score since the first half, finally broke through on a 15-yard circus-type catch by senior tight end Cole Stabnick on a throw from junior quarterback Ryan Bell. The stunned Indian defenders were only exceeded by bobbles off the hands of Stabnick in the back of the end zone. Bell then snuck it in under center from two yards out on the ensuing two-point conversion attempt to give Conard the 20-13 advantage with 11:09 remaining in the game.
The Chieftains were then able to hold on to the lead by running the clock and playing tough defense. Newington picked up just two first downs and 29 yards in their last 12 offensive plays of the game, spanning their final two drives. Jake Hedberg, Newington's junior quarterback, completed just two of his last seven passes during that span for 10 yards. This coming a week after throwing for 255 yards and four touchdowns in a 52-22 victory over Bacon Academy.
Conard ran out the last 4:58 on eight plays, all of which were runs, on the legs of senior tailback Deron Johnson and sophomore halfback Nate Richman. The backfield duo wasn't the only thing the Indians couldn't stop on the drive, but also the clock. With just one timeout remaining, coach Roy Roberts had to watch the seconds tick off the clock and Conard head to a win in their season opener. The backbreaker for Newington came with 2:48 left, when Richman took a pitch from Bell out of the double-wing formation and took it left side for 11 yards to convert a third down and 10.
Newington started the scoring when senior halfback, Isaiah Young, ran for a 37-yard touchdown on the first play of the possession just 6:07 into the game. Newington was then unable to convert the two-point conversion as Hedberg threw an incompletion in Anthony Orwa's direction.
Conard, coached by Rob Cerosimo in his tenth year, was stymied offensively early on. The Chieftains had the same amount of first downs as turnovers--one--in their first three possessions. That was before Bell found junior receiver Alex White for a 38-yard reception into the red zone. After a 10-yard run by Bell on fourth down to keep the drive going, Karon Golding capped things off with a one-yard touchdown reception from the junior quarterback. This tied the game at six with 2:13 remaining in the first quarter, as Caleb LaRosa missed the PAT.
Conard broke the tie with just 75 seconds remaining in the first half on a 13-yard touchdown pass by Bell on a third down and one attempt. Leading 12-6, Bell was less fortunate on the two-point conversion attempt, as his pass fell incomplete.
Newington opened the second half with possession and took the ball 77 yards on 10 plays to take the lead. The scoring drive, which lasted 3:01, was capped off by Hedberg picking up the last nine yards on three consecutive run plays, including the quarterback sneak from one yard out to knot it up at 12. Kyle Armour then kicked it through the uprights to give Newington the 13-12 advantage. This was the last time Newington would score, as they would gain just 28 yards on their last four possessions. Hedberg, after completing five of his first six passes, finished just 3-13 after Newington's last score.
Newington didn't do themselves many favors, having a punt blocked, dropping a handful of passes, and committing nine penalties for 80 yards. Conard didn't play much cleaner, committing three turnovers and 11 penalties for 85 yards. The officials were just as busy as Hedberg's right arm.
Newington continues to search for their first win at Conard since 2008, losing their previous meeting there, 61-13, two seasons ago. The Indians are now 1-10 in September games dating back to that 2008 season. They'll look to turn around their September misfortunes when they welcome Hall High Friday night.