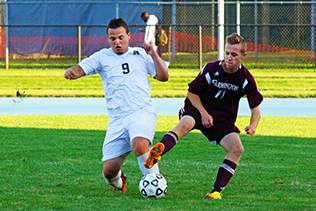 Newington Boys Soccer Takes it One Game at a Time
NEWINGTON - "Our season so far has gone relatively well," said Jeff Brunetti, now in his fourth year at the Newington boys soccer helm. "We're playing in the difficult CCC [Central Connecticut Conference] West, where it seems that on any given night, any team can win. It's still early in the season, and there's plenty of work left to be done, but when we look at our statistics, it's been our best start in four years."
With week two of the season in the record books, the Indians stand at 3-2, with wins over Hall, Platt and New Britain, and have outscored their opponents by a 9-4 margin. The pair of losses have come at the hands of Simsbury (1-0) and reigning CIAC Class L champion Farmington (3-0).
Brunetti's philosophy is simple--take the schedule one game at a time and not look too far ahead.
"The main goal I stress with my players is to focus on the game that means the most, and that's the one we play on game day. We push to be competitive in every game we play and do our best to win. The skill and ability are there. We just need to execute at a more consistent level.
"Some teams want to win the conference or get into the state tournament. Those are destinations in my mind. If we train hard on a daily basis and focus on the present game, we'll reach those destinations.
"At Newington, the goal for all our teams is to achieve competitive greatness. This can only happen when you have a team who believes in themselves as athletes, strives for consistency in training and is focused on a common goal," Brunetti said. "I would say we're progressing as a team. We struggle at times with organization and executing passes, but I'm completely confident in our young men as we move forward this season. I see their passion at training and in games. This year's strengths are definitely passion and energy and an unconditional love for the game."
Brunetti led his 2012 Indians to a 9-9-1 record and a place in the CIAC Class LL quarterfinals, where they came up short against Stamford. This season, a lot of talented players returned determined to build on last season's momentum and clinch their first state title since 1950.
While Brunetti knows that offensive fire power wins games, a strong defense is equally important.
Senior Greg Zydanowicz anchors the Newington defense.
"Greg is a first-class athlete," Brunetti said. "This year he'll provide us with soccer intelligence and work rate. If there's a player we need to model ourselves after, it's Greg. I've never had a player with his level of seriousness and work ethic!"
Lining up alongside Zydanowicz is Alex Skonieczny, who Brunetti said is "a strong defender who is consistent in his tackling and helps us with organization as the vocal leader on the field."
Skonieczny also showed his worth in attack when he scored in the 3-1 win over Hall.
Four-year starter Chris Kapuscinski is the guardian of the net.
"He's consistent and keeps the team in games," said Brunetti. "There are saves that Chris makes where all you can do is shake your head and smile."
Brian Goncalves is the Indians' midfield general.
"Brian is the heart of the team. He brings passion and hunger every time he steps onto the field."
The Indians' attack is led by goal machine Mitch Ambruso. The senior forward found the net 10 times last season and has already hit the target three times in 2013, while striking partner Justin DeLeo has already bagged a pair this campaign.
"My most improved player this season would be Ryan Newton," said Brunetti. "Ryan is a fantastic defender who's cool, calm and collected with the ball at his feet. He tackles well and doesn't make too many mistakes. Ryan distributes the ball well to his teammates and has stepped effortlessly into a starting role. I love having him on the field. He's highly focused and leads by example during training and games."