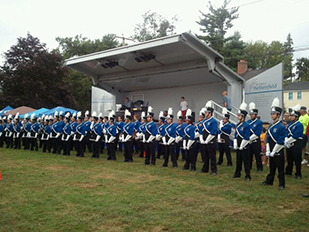 A Little Rain Doesn't Spoil Cornfest's 29th Year
Hundreds of people from Wethersfield and beyond headed to the Broad Street Green in Old Wethersfield to check out the booths selling jewelry and other goods or offering samples and information from local businesses. Other booths had crafts or games.
The Cornfest had plenty of entertainment for the kids, the most popular of which had to be the row of inflatable bounce houses. There was also a tractor-pulled wagon, a pumpkin patch where visitors could draw and paint on the pumpkins, face painting and more. Some food stands sold traditional fair fare such as popcorn and fried dough, but a few restaurants, such as The Sloppy Waffle, brought a taste of their own menu.
The Wethersfield High School band kicked off the entertainment for the day, followed by local entertainment on the main stage, including Wethersfield-based band Simply Swing.