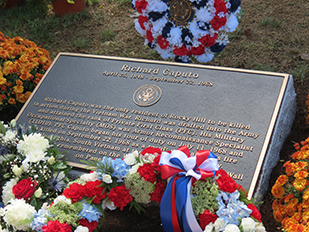 Rocky Hill's Sole Vietnam Casualty Remembered
Caputo, a draftee serving with the U.S. Army's 25th Infantry Division, was only 20 years old when he was killed in action Sept. 22, 1968, two months after he had arrived in South Vietnam.
State Rep. Antonio Guerrera, state Sen. Paul Doyle and Mayor Timothy Moriarty were among the local officials who spoke of Caputo's bravery.
"Richard had two choices when he got drafted: To go to war or to go to Canada," Moriarty said. "As the hero that he was, he made the right choice and fought for his country."
The United States lost over 58,000 men in the Vietnam War, with an average age of death of 23 years, 11 months, Moriarty said.
"When I learned that Richard Caputo was the only son of Rocky Hill that was killed in Vietnam, I decided right then and there that we needed to do something for him," Moriarty, who made mention of his intention to organize a memorial for Caputo just three months ago at Rocky Hill's Memorial Day ceremony, said.
Caputo's surviving brothers, Peter, Carl and Henry, unveiled the bronze plaque set on a granite stone in the middle of the green, just a short walk away from where Caputo grew up on Grimes Road. His widow, Ann Wolanin, and sister, Joyce Caputo Valeggia, joined Moriarty in laying down three wreaths on the plaque before the ceremony closed.