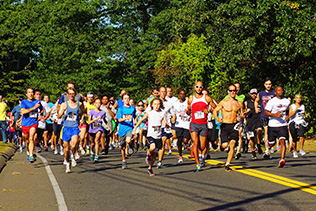 Stampeding Runners Hoof-it For Haiti in Rocky Hill
The morning started with the first-ever Kids Run for ages 12 and under before participants thronged Brook Street for the 2.5-mile Fun Run/Walk and the 5K Run/Walk.
Karim Mabrouk of Naugatuck finished first overall in a time of 18:00. Rocky Hill's Todd Brown came in seventh overall (19:15). Eliza Webber of New Haven was the top female finisher, 14th overall with a time of 20:36. Fifteen-year-old Ashley Ramirez of Cromwell posted the second-best female time of 22:02, which was good for a finish of 21st overall.
Hoof It for Haiti Race Director Jeff Cantin has been a parishioner at St. Elizabeth Seton for more than two decades.
"After I graduated as a physician's assistant in 1998, I asked Father Jim Shanley if he knew of any medical missions I could go on. He didn't, but was aware that the Diocese of Norwich had a Parish Twinning Program with Haiti. A couple of my classmates had done some mission work in Africa and El Salvador as an elective and I was envious of them.
"The only way to understand parish twinning was to go to Haiti, which I did, and brought the information back to our church," said Cantin. "The Parish Council went to Haiti for a cultural immersion trip the following year. We found St. Anne's parish in Saintard, Haiti when we went back the third year and thought they were a perfect parish to twin with so we signed a covenant with them.
"We have raised more than $75,000 over the past five years. My goal is to have raised over $100,000 over the next couple of years," according to Cantin. "We get a print out every quarter of how the money has been spent, with most used to maintain St. Anne's parish, including purchasing supplies, fueling their vehicle and backup generator and paying school teacher salaries.
"We doubled our participation from last year, with the majority of people hearing about our race through 'word of mouth.' We had a Haitian family who drove all the way from Queens, N.Y. A group of Haitians from Stratford...who support a school in Haiti, felt compelled to participate in our event," said Cantin.
"We will have a total of what was raised later in the week. I am confident that we definitely raised more than our annual commitment to our twin parish of $12,000 ($1,000/month). Based on prior years, we've averaged about $15,000 per year."