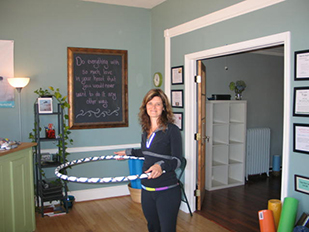 River Rock Yoga
One day while at the gym, Byrne reluctantly attended her very first yoga class. Despite all the reasons she could think of for not participating in yoga classes, she felt so much better after that first class that she had to continue. Much like the route she took with gymnastics, her next step was to teach. She wanted to teach others that the pain they suffered from arthritis, or just plain sleeping in an uncomfortable position, could be alleviated by practicing yoga.
Sandy and her instructors at River Rock Yoga teach body awareness and techniques to make the body feel good. They offer Zumba, hula hooping, Reiki, meditation and everything you need to heal your mind and body. There are even yoga tune-ups, private and semi-private yoga instruction and, of course, massage therapy.
River Rock is a small studio. Classes range in size from three to 10 students so everyone receives the same personal attention. The classes will help you relax and revive the body in a safe and natural way.
Byrne believes so strongly in the benefits of yoga that she offers a 200-hour yoga teacher training class, designed to give students the confidence to teach many levels of classes safely. So, whether you're a beginner, old pro, or just need a little tune-up and a massage, River Rock Yoga is the place to go.
Special events coming up include:
9/27: Sound and Hearing Healing Circle, 7:30-9 p.m.
9/28: Yoga for Cyclists, 3-4:30 p.m.
9/29: Moving Through Change with Grace, 4-6 p.m.
10/18: Lunar Flow, 6-7:30 p.m.
10/19: Yoga Tune-up for the Office, 4-5:30 p.m.
10/27: Restore and Renew, 4-6 p.m.
River Rock Yoga, 221 Main St., Old Wethersfield, always accepts walk-ins. For more information on classes and schedules, visit
www.rryoga.com
or call 860-757-3339.