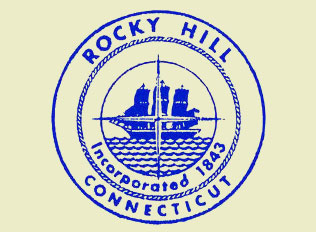 Terriers Keep Taming Eagles, Remain Undefeated
ROCKY HILL - Through three weeks of the 2013 high school football, season the Rocky Hill Terriers have played three schools that are nicknamed the Eagles, and for the third straight week the Terriers have come out victorious. Their latest Eagle opponent was East Catholic High from Manchester, who the Terriers soundly defeated 49-14 under the Friday night lights on a cold, crisp evening in Rocky Hill.
In a game in which neither team punted, the Terriers' incredible ground game stole the show as the dynamic backfield duo of Chris Young and Dave Sevigny combined for six of the Terrier's seven touchdowns and also provided a number of sensational highlights for the boisterous home crowd.
Sevigny had a 21-yard scoring burst up the middle that gave Rocky Hill a 7-0 lead on their first offensive possession and he would later add a 36-yard touchdown reception midway through the second quarter that put the Terriers up for good, 21-14. The go-ahead touchdown was delivered by quarterback Andrew Jenkelunas, who threw a beautiful rainbow pass down the right sideline which dropped perfectly into the hands of Sevigny as he crossed the goal line.
East Catholic kept the score close in the first half with their well-designed Wing-T offense that featured an array of running backs and nifty ball handling from quarterback Peter Harris. However, despite winning the time of possession battle in the first half, the visiting Eagles still found themselves trailing 28-14 heading into halftime.
After an entertaining halftime show performed by the Rocky Hill marching band, senior Chris Young put on a show of his own in the second half. The tailback scored three of his four touchdowns in the final 24 minutes, including an electrifying 50-yard touchdown scamper to finish off the scoring. The spectacular run featured Young weaving through would-be tacklers and covered the entire width of the field. Young finished with 184 yards on only 14 carriers and now has an eye-popping nine touchdown runs through the first three games.
The unsung heroes during Rocky Hill's undefeated start have been the offensive linemen, which have opened up huge running lanes and protected Jenkelunas all season. The line is led by senior guard Nick Carducci, who also plays linebacker on defense and is a tackling machine.
The trend would indicate that the Terriers' next opponent should be the Philadelphia Eagles, but instead they will welcome the (3-0) Bloomfield Warhawks to Rocky Hill on Friday night. The winner of Friday's showdown will take over sole possession of first place in the Central Connecticut III West division. The battle of unbeatens will kickoff at 7 p.m.