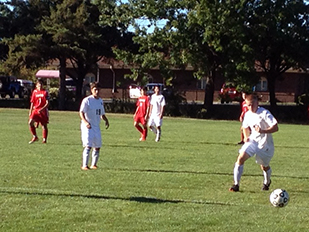 Indians Soccer Hangs on to a 2-1 Lead Over Conard
NEWINGTON - It's the final minute of the Newington High School soccer team's home field duel against Conard High School, and it appears the Indians have just dodged a bullet.
Just seven minutes ago, the referee made a controversial call--not his first of the day--ordering a penalty kick to be taken after a Newington defender committed to a slide tackle that appeared to swipe the ball away from the Chieftain attacker at the left edge of the Indian penalty box.
The Conard player lined up for what appeared to be a goal that would slice the two-goal deficit they were facing to 2-1, but then the unthinkable happened. The low shot rang off the right post back into the middle, where the striker retrieved the rebound all alone, but again failed to drive it home, chipping it over the crossbar to the frustration of the Chieftain faithful that had gathered outside the fence separating the Newington cheering section from the parking lot.
Unfortunately for Newington, the next bullet would come while their backs were turned. After Conard had set up for a free kick with the ball placed just outside the right edge of the penalty box, the Newington players appeared to be waiting for the referee's go-ahead, but the Chieftains didn't seem to need it. The kick taker chipped a ball that bent, veering into the top left corner of the net over an unreactive Chris Kapuscinski, who, like his teammates, seemed to think the play had been dead.
That's what the officials said initially, before conferring with one another briefly and ruling the play a goal to the moans of the Newington crowd and players.
For Newington, the remaining 35 seconds or so was about doing what they had been the whole game-locking down the penalty area by clearing aerial threats and blocking shots. They held on, sealing the 2-1 win. Goaltending also helped--a lot. Kapuscinski, a senior, was stellar between the goal posts, turning away a slew of Conard scoring chances that came off of free kicks.